Ritz Crackers'n Cheez
Manufacturer: Kraft
Product's Name: Ritz Crackers'n Cheez
Availablity: Jusco
Crackers and cheese dip. Reminds me of the breadstick and choco dip with colored rice balls i used to have when i was young. Very nostalgic.
The cheddar dip is really nice, but it should be less salty especially when the crackers themselves are lightly salted.
When you finish the fourth cracker, you don't know what do to with the remaining dip because it's so salty you just cant eat it alone.
Cheesability:






/10
Goldfish Baked Snack Crackers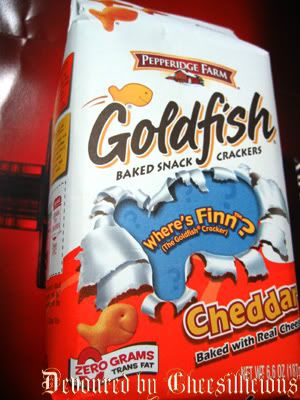 Manufacturer: Pepperidge Farm
Product's Name: Goldfish Baked Snack Crackers
Availablity: Jusco
It says baked with real cheese. Hmmm no wonder they are so stingy on it.
These little fishies are not very cheesy.
You gotta feed them parmesan cheesebaits when they swim in your soup.
Cheesability:





/10
HERR's Nachitas (Nacho cheese flavored)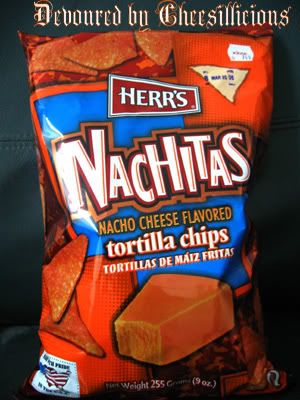 Manufacturer: Herr's
Product's Name: Nachitas (Nacho cheese flavored
Availablity: Only seen in KIOSK
Price: RM7.50
A friend recommended this brand. So we went all the way to KIOSK to get these Nachos so that we can get drunk on cheese while running on a cheesy DVD marathon.
Compared to Dorito's, it is way less cheesy. Me and mozzie were not high on the cheesy aroma the moment we opened the nacho bag like we did with Ruffles. It's saltier than Dorito's too.
But its saving grace is the crispiness. The tortillas chips are thinner therefore crispier too.
Cheesability:






/10
Herr's Baked cheese curls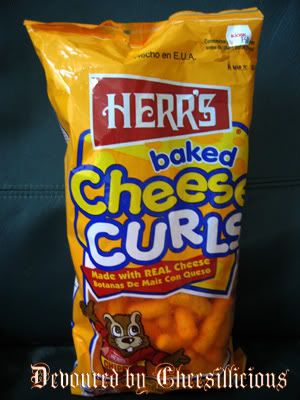 Manufacturer: HERR's
Product's Name: Baked cheese curls
Availablity: Only seen in KIOSK
Price: RM7.50
First of all, it is not curly. I don't know why it is called cheese curls anyway.
Mozzie was making jokes of what they look like. It's a little obscene so i will skip that.
As usual, I popped the first small, erm, curl? into Mozzie's mouth as she is my official cheesebits taster.
Then i saw her face turn more crumpled then an apple crumble. Then i tasted one myself. I become another apple crumble.
It is sooooooooo salty.
But later we actually finished half of it during our final radio show. Mozzie said it was not that salty anymore after the 3rd or 4th erm, curl? Maybe it numbed our tastebuds.
Cheesability:






/10