So i did go down to Bukit Bintang and check out the Xmas deco to compare with Orchard Road SG… with my adorable Lolita mui mui Aki. I'm so happy to have found you, really. =)
Today's mission was to teman Aki shop for her Goli costume for the big event. At the same time i also needed to shop for my own Goli accessories and shoes.
And what's more, this is my first ever date with my sakura mui mui. And we decided to be a part time Loli today. Cheers! =)

Aki from Cyberjaya to my place.

And we couldn't wait to Goli already.
Since both of us are super hopeless roadblinds, (believe it or not, i REALLY dunno how to drive down to Bukit Bintang. So laugh all you want.) we drove down to KJ station and took LRT down to KL Central and then MRT to Bukit Bintang.

What we found the moment we got down from the train.

And she went all posey posey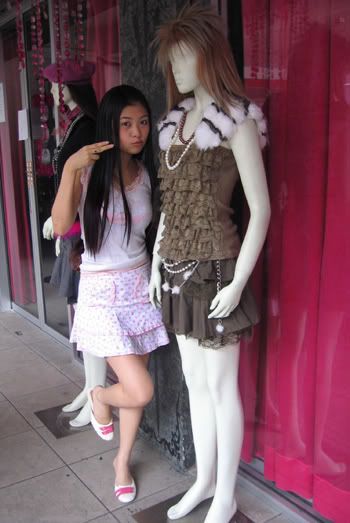 So i went all posey posey also la
Lunch at Sungei Wang. Forgot the restaurant's name but i when i looked at the menu i thought it stole some pictures and recipe from Vietnamese Kitchen. But cheh the restaurant DOES belong to Vietnamese Kitchen.
But check out the deco. It's orangelicious!

Some roti canai cheesy roll sandwhich. LOL. And yes we are sharing because there are so much more to come.

Aki taking pix of the food… and me.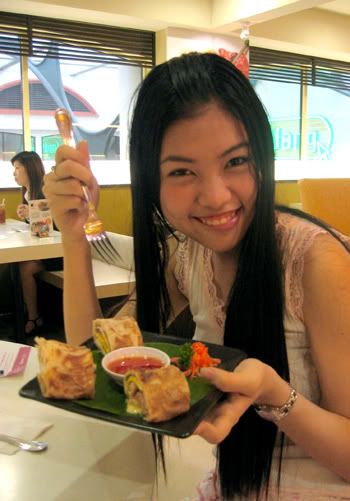 But i hungry d! Can we eat now?

Eh got dessert summore, caramel pudding! I think i'm gonna tapao that for Ikkei, For his fetishism. ROFL.

Yay! time for real shopping!
I was quite amazed by the malls' deco. The deco in Sg Wang is actually very nice. Yeah and i mean very. Well abit too nice for its Lala-ness. We walked to Lot 10, KL Plaza but Sg Wang's still the nicest.
We spent a few hours here and Aki finally found her perfect Goli for the party. So we are all ready! I was really tempted to buy some goli dresses but should i get it in Taiwan instead? Cuz they are all Taiwan imported after all. But those selling in Taiwan now are prolly super Winter-Xmasy ones that i could never wear it under 35°C sunlight.
Dou shiyo kana?
After some DVD shopping, we had a break for some juice.

Guess which is what and whose?

Aki's Lime

Cheesie's Pink Guava

Teddy Xmas Tree!!!
Here's dinner in Dome Lot 10: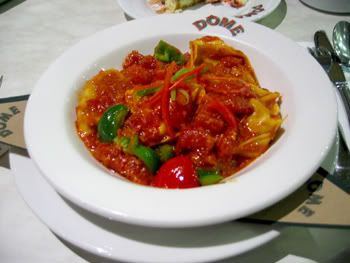 My Mushroom Ravioli with tomato paste. It was real cheesy. Naish!

Hot choc in Dome as usual. Why i like it? Because Starbucks/Coffee Bean/San Fran don't give you biscotti!

Aki's marble cheesecake. She is cheesier than you think she is. =)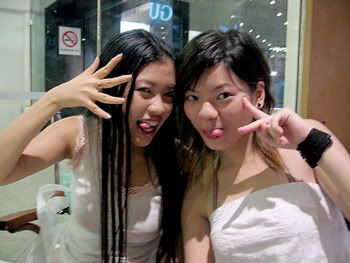 More walking after meal. Vicious cycle.

A walk to Star Hill

Outdoor Xmas Trees

Indoor Xmas Tree

What's up? Xmas's up!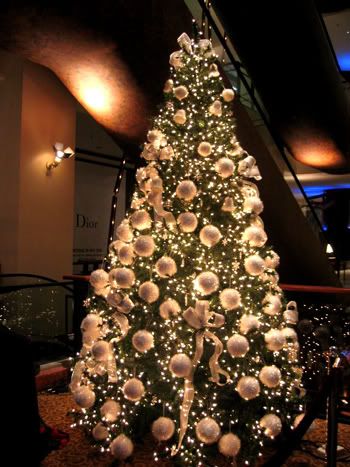 Snowball Xmas Tree? Or Marshmallow? Yums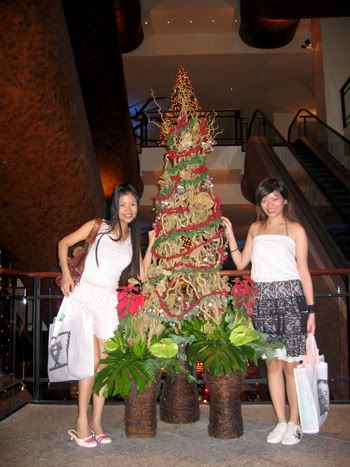 And you really really gotta check out the food gallery. It's so Neoclassical.
And guess what this is:

It is the washroom basin!!! You gotta spin that thingie for the water to come out to wash ur hands. OMC since when did we get back to the stone age?!

The "cyberspace secret tunnel" from Star Hill to JW Marriot Hotel

@JW Marriot

@KL plaza
We could have shopped more but Sakura Mui Mui gotta get back to Seremban. So that's all for today.
Xmas Deco verdict?
Indoor is excellent, but outdoor is nothing compared to SG. Summore last year i wasn't around in town. Don't even know if they recycle all the old deco.
But it was so fun! I just love Xmas. =)
Ah one more thing, just don't ask how we got our pictures taken together. Pretty Lolis always have a way around it. =)