Wanted to do these food reviews some time ago.
Eating, after all, is the best antidote for any poisonous ailment. But of course it comes with a price to pay.
Let's see what made my days.
Delicious Café By Ms Read
Marshmallow Melting Pot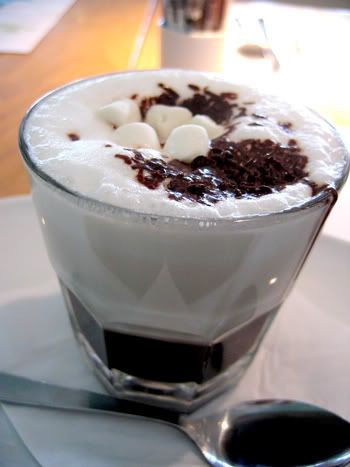 This cocoa's kao-ness is crazy. I think they freaking just pour super kao choco fudge instead of cocoa powder into the glass.
The kaoest hot choco I've ever tried. But it is very different.
It's like a divorcing married couple.
In the glass, milk is milk, choco is choco. They won't even melt in each other's embrace even when stirred vigorously.
They refuse to reconcile because they don't belong to each other.
Innocent little marshmallow kiddies are floating aimlessly on the foam, and waiting cluelessly to be devoured by desperation and greed.
Ok I know I shouldn't sound so cynical to food. Sorry so let's move on to the next one.
Spinach Quiche with Pine Nuts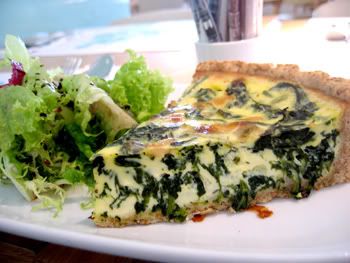 It was tasteless.
Period.
To keep up with my lousy gastronomic skill I better write abit more.
Well the best part (in fact the only good part) of this quiche was the crust. It says cheesy crust in the menu but it didn't taste cheesy. Nevermind, as long as it was crispy. Plus it tasted oatish too.
The tart was extremely eggy, but still tasteless. Didn't really go with the spinach too.
It will be disappointing trying to find the hidden pine nuts (or the lack thereof).
Alexis Bistro

I forgot what it this called but apparently it's some antipasto tapas.
There are three dips that come together with this dish. I only recognized guacamole. The other two tasted weird.
One thing I will never forget is that the cherry tomatoes tasted FIZZY!!!
But I don't think the tomatoes had gone bad.
I have never ever tasted anything like this. It's like they have soaked them in soda for hours.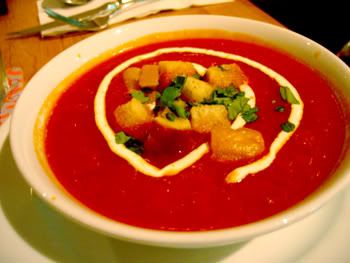 I only had sip of this and it was ok la. Quite rich and creamy. After all we didn't come here for the food but the dessert!!!!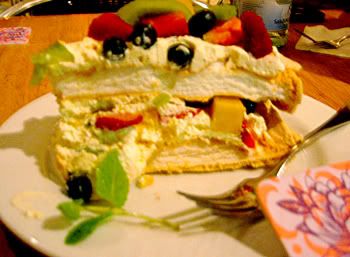 My fav of all time—Mix Fruit Meringue!!
A mix of mango and kiwi dices, blueberries and strawberries on top of (and inside!) layers of yummy cream and spongy yet crispy sugar-eggwhite base.
The choice of sour fruits tames down this sugary cake just right. Simply woolala.
Of course, how could I miss Frangelico!!
The waitress frowned when I did the order. Apparently the drink is still exclusively Ringoistic. LOL.
Hey the Frangelico here tasted different. I had it on the rock instead of with milk. They didn't put a slice of lime in it so it was not sour. But still very naish!
Should try it with milk next time.
Grappa
Finally I was here again. Thought of giving the tiramisu here a second chance because they all say it is the best one in town. The ultra kao liquor in the Grappamisu I had last time almost got me drunk. Silly of me not sticking to the original classic. But i was too full at the end of the meal so next time ok.
Gorgonzola Cheese Penne with Rocket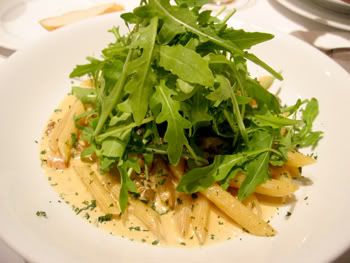 I love rocket! You hear me yet? I lurrrrrrrve rocket…
I wanted rocket salad, baaaadly. As badly as I did want Mos Burger.
Gorgonzola was okay. But I'm not a fan of penne.
I just don't like holey pasta. I believe only cheese can be holy.
But the rocket!
*chomps chomps chomps*
Quattro Formaggi XXX

Yes it is Four-cheese XXX.
Of course it is not called "ex ex ex" but I can't tell you what it is.
Bleh.
This is the best best bestest pasta. It melts in your mouth. And the cream is… heavenly.
But I'm not gonna tell you what it is.
It is something special. And if you do know, you are someone special. =)
Robbert Harris

My usual cup of hot choco.
Doesn't taste extra chocolicious but it's heart-warming.
The smiley puts a smile on my face too. =)