My first visit to Bakerzin was the one in Bangsar Shopping Center. Bakerzin is a dessert heaven. Imagine how happy I was when it finally came to 1 Utama, after O'Briens and Delicious.
I've done a little snooping around on the net and apparently Bakerzin has a very reputable consistency in its food quality. A blogger said she's tried the same food from Bakerzin in Singapore and KL and they are not different in any way.
Brioches mushroom fricassee
Sautéed mushroom, spinach & poached egg on brioche bread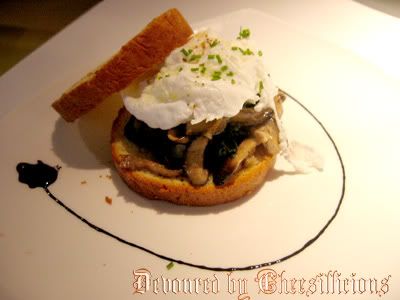 This is categorized under "heartier meals", but the portion is kinda small as a main course. I would say it is a little tasteless too.
Seafood spaghetti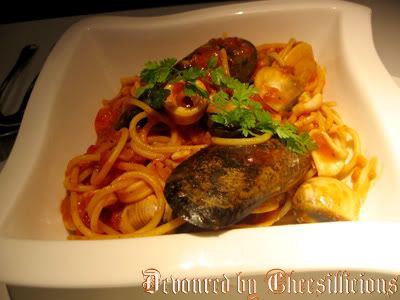 This looked nice, but I didn't try it. The original meal is meant for two, but you can always ask them to reduce the portion to one, for half the price.
Champignons ala crème
Mushroom stew served in traditional herb flavored vol-au-vent with mesclun salad.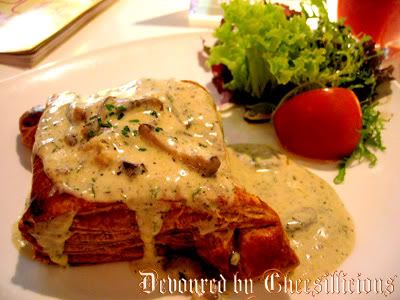 Erm… Whatever that means…
-.-"
I noticed Bakerzin uses lots and lotsa champignons in their dishes. Personally I love mushroom itself a lot, but not cream of mushroom though. Weird. Maybe it was the countless bad experiences with Pizza Hut and Campbell. You'll never hear me order mushroom cappuccino. However wild it is. LOL.
But if you do like cream of mushroom, lucky you, this is like a special version of "mushroom soup in the bread", with thicker, more concentrated cream of mushroom and crispier pastry instead of soggy bread.
Lavender Tea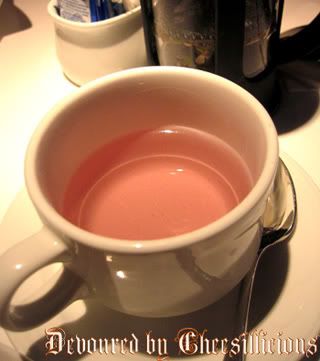 A change of taste from my usual cuppa chamomile. A very lovely romantic tea in pink with a faint aroma of lavender.
Strawberry Juice (Fresh blended!!)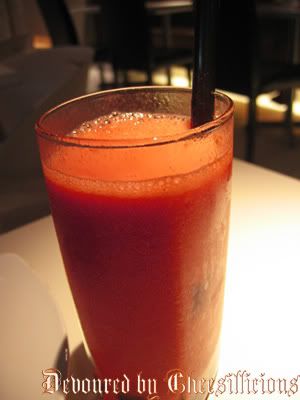 This is NOT in the menu. I wonder how Princess discovered this rare gem. She must have been asking all restaurants if they serve strawberry juice, hmmm.
Jewel and I decided to go drinkless (we've just had tea in Dome!)
Ordered the drink Princess did, and off for a ciggie break with Angel she went. Then that pinkish-red glass of thick liquid came.

Jewel: Looks nice.
Babybelle: Sure does.
Jewel: Hmmm.

She stared at me for awhile, and looked stealthily at the direction where Princess's gone. Then without saying a word, she took a sip of that drink.

Jewel: *gasps* Stellarific!

Me stared at her for awhile, and looked stealthily at the direction where Princess's gone. Without saying a word, I took over the glass and had a sip too.

Babybelle: *gasps* Cheesarific.
*together* Jewel&Babybelle waved at the waiter.
Jewel: Another glass of strawberry juice please.
Babybelle: Make it two. Without sugar, please.

*Princess walks back into the scene and notices that three glass of juices*

Jewel: We're kind of, erm…
Babybelle: Thirsty, yes.

Café Latte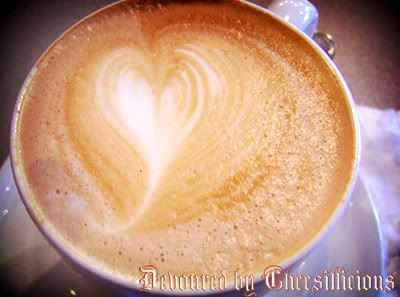 Also check out this café latte with (literally) lovely froth. Awww… how lovey dovey.
The food is pleasant enough but a little pricey compared to other similar cafés such as Delicious and Robbert Harris. The two mushroom dishes are RM21 each. So be prepared to fork out an RM50 note for another drink and a dessert, if you go alone that is.
But heck, what's fun to have dessert without sharing!
Stay cheesed for Bakerzin Part II, Chapter Dessert!!