I've been wanting to dine in Café Café since 3 years ago.
I know distance is a lame excuse, cuz a cheeser like me will go to great length for good food.
I panicked after reading/hearing more and more comments from friends who have visited this lovely café.

"It's uber romantic. You'll fall in love with that place, trust me."
"The food is soooo good! So cheesy!!"
"Cheesie you MUST go. No matter what. Take a cab or something."
"OMG how can you not have been to Café Café?!"

Yea. Like, how can I not have been to Café Café.
And NO LONGER!!
Café Café has been officially cheesily devoured. Muahahaha.
I don't know how to describe this place. It is said to be quintessentially Parisian– echoes of the combination of Le Quartier du Marais, Montmartre together with a touch of Moulin Rough (sic, quoted from its original website).
But whatever man, me ain't artsy-cheesy. In plain cheesie term—Cheesarific. Period.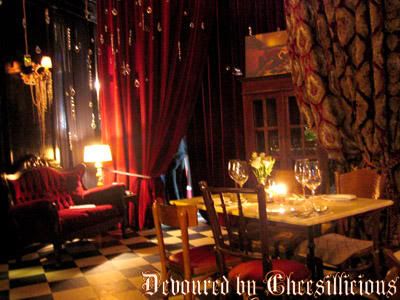 Just hold your breath the moment you step inside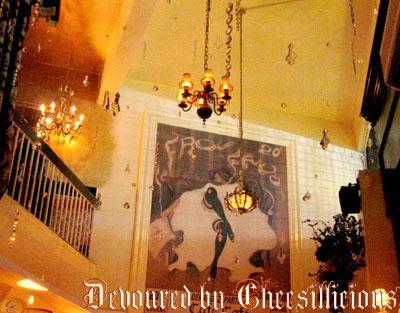 Dangling crystals from the ceiling, all over. Wish upon a crystal!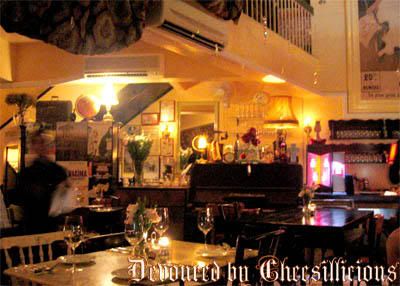 Errm, the combination of Le Quartier du Marais, Montmartre together with a touch of Moulin Rough?! lol.
My photography sucks ok. Please visit Café Café's website to check out the professional photos. You'll love'em.
Now let's move on to food!!!
Appetizer
Escargot topped with foie gras and truffles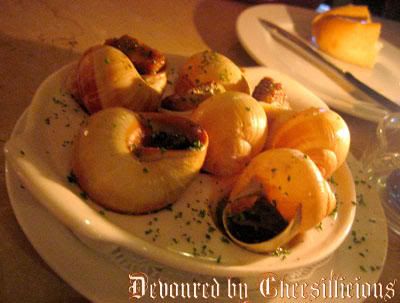 I didn't have this. I'm escargot-phobic. (Tabacco allergic, caffeine intolerant… I know!! >_ Pan-seared foie gras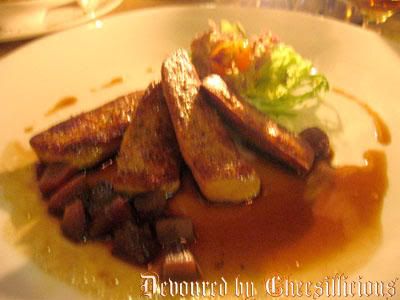 Babybelle: Dollies, you HAVE TO try this.

(*kan cheongs* in case they go crazy over it, i die la. i'll have only the gravvy all to myself. lol.)

Princess: *not interested* I like my duck.
Tiara: *hesitates* Erm… No thanx..
Dazzling: *gasps* I'm sooo full. I've had a three course meal in TGIF!
Angel: *shakes head* on diet.

Babybelle holding a fork with a mellow juicy piece of foie gras, staring at Jewel.

Jewel: oooookay… *opens her mouth*
Jewel: 0_o (for 10 second)
Jewel: I sooooooo regretted having escargot. Can we swap?
Babybelle: Muahahaha no.

This. is. the. bestestest. Foie. Gras. in. the. world.
I went speechless for one whole minute before I could tell them how good it was.
It just melts on your tongue like that. And… forgive me, I still can't describe how good it was.
I think, Café Café should modify their set menu a little. This pan seared Foie Gras should be served as a dessert, because you simply don't feel like eating any thing else after just one bite. You just don't want other taste to overlap this Foie Gras intoxication. Trust me, you don't even feel like brushing your teeth before you sleep because you want it lingers into your dream.
I'm serious you know. Next time I'll order it as a dessert.
Foie Gras Salad

Foie Gras again. This time with salad. Just as intoxicating.
Main
Fettuccini with white truffles sauce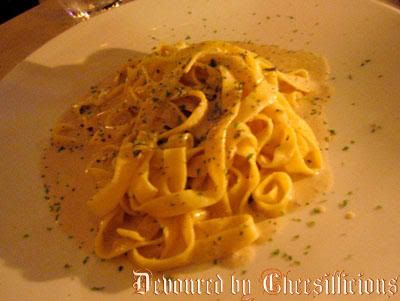 I always wonder how truffle tastes like. Of course I have tried truffles. Like, chocolate truffle. But the real truffle?
Truffles and Foie Gras are Café Café's specialty.
10 out of 10 for Foie Gras. This truffle sauce… hmmm… It's no doubt very rich in erm… truffles?
The thing is, after eating the pasta, I still don't know how truffle taste like. lol.
But someone said it tasted like petroleum?!?
0_o
I didn't finish it though. (and the waiter asked if there's anything wrong with it *paiseh*) because someone wouldn't want to help me with it. Cutting carbs, bah!
Grilled cod and scallop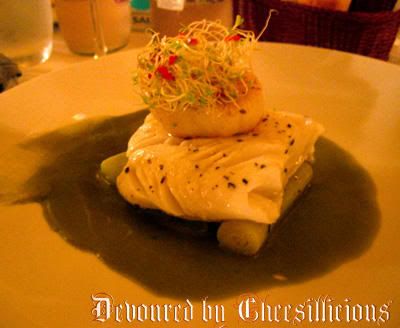 The presentation reminds me of the Egyptian Pyramids. It looks like the skid that could transfer bricks/stones to the pyramid site.
Imagine the scallop is one huge block of stone, and is being carried on the skid (the cod body) on four giant rolling leeks, in a pool of uhm… mud?
Enough nonsense. Go on and I might ruin your appetite. Hehe.
But look at the texture of the cod. It was just so fresh. Gravvy is greenish, but you can't see clearly because the color of this photo is hopelessly irreparable.
Just don't quite fancy the giant rollers though.
Dessert
Tiramisu

Sorry for the bad picture, again. But the good news is, it's better than what it looks. =D
Crème Brulee with Espresso and Amaretto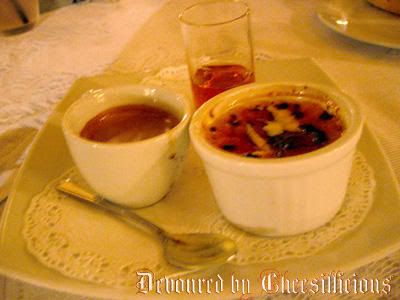 Jewel loves Crème Brulee.
Jewel loves Amaretto.
So this is like double the love.
For the first time we ate Crème Brulee differently. Jewel kept pouring Amaretto and I kept filling it with espresso.
The espresso was too good I went a tad espresso OD. Hence the disastrous insomnia.
Price to pay for good dessert!
Grand Marnier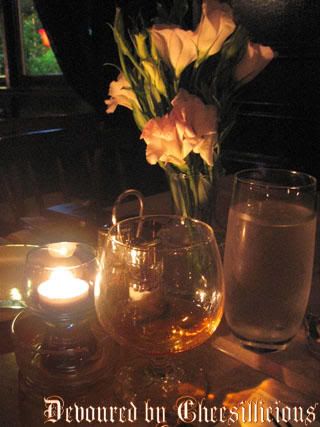 Neat. So it's extremely tangy.
As if I've not gotten enough of Tiramisu.
But where's my frangelico?!
Verdict:
The dolls love Café Café.
Me loves Café Café.
Everybody loves Café Café.
It's harder to find people who dislike Café Café than people who love Britney Spears.
So, "OMG how can you not have been to Café Café?!"
=))