Today, I got my seriously-smells-nice scrub. Like, seriously.
Oh and a bottle of seriously-smells-nice shower oil too.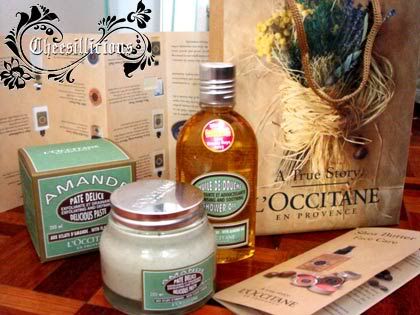 I can't believe a jar of scrub can smell like… heaven.
I had exactly an hour to shop in 1U for my stuff. So I wandered around and discovered two shops I have never stepped my foot into. And I swore I was gonna buy something from them because I lost faith in The Body Shop. Between Crabtree&Evelyn and L'Occitane, I chose the latter because one of my ex's ex girlfriends' name is Evelyn and I hate her.
I stepped into this totally strange corner of my second home.

"Do you have a loofah here?"
"Loo– what?"
"Looofaah." (another shop assistant chipped in from far)
"Aww we don't have that, sorry…"
"In that case would you recommend some scrubs that smell seriously nice?"
"Come here, you'll love this."

She brought me to the Amande shelf, and opened this jar of "Pate Delice". Before I could go eewish, the jar was put right in front of my nose.
0_o
Holy Hayley!
I NEVER KNEW ALMOND SMELLS THIS NICE!
At least not Amaretto. If you go ask your mom she will tell you almond smells like some evil blood-sucking bedbugs. Really wan.
From that moment onwards I was totally in love with L'Occitane. *swoons*
Nadia (the shop assistant) was very chatty and helpful. She even did this mini spa for me on my arm using bathsalt+scrub+lotion plus a free massage.

"So how do you like this almond scrub?"
"Lurrrve it! Perfect to beat my pre-college blue."
"Ooh, starting school yea, where at?"
"LUCT."
"OMG I just graduated last year!! Omg do you know this girl named……"

So the mini spa and massage went on for half an hour because we couldn't stop bitching about LUCY.
She told me so much inside stories about the ever-so-scandalous LUCY ambassadors, like how they get paid RM500 a month just to wear nice tops and "to be seen" around college with a distinctive clique of "elite" LUCTians.

"And Tan Sri would want each of us to portray different images. Say she's the hip hoppy one, another is the supermodel-like one. And he'd tell me to go do some shopping, get some nice midriff tops, have my hair dyed red, BIG and curly, show my ass and all."

-_-
Ooookay.
People. That's why LUCY is WEIRD. Because Tan Sri wanted it to be.
At the end of the day, I didn't have time to shop for my loofah cuz I spend a freaking whole hour in L'Occitane.
Anycheese. I have to go for a bath now. Almond scrub is my new drug. Cheese ya around!