Pun of the day:
*This commercial is sponsored by World Wildlife Featheration*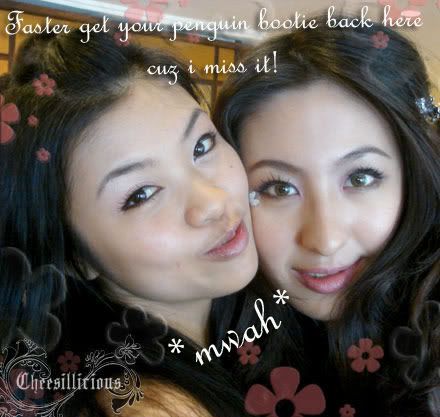 Penguin and Cheese Protection Guide
1.They are both sun-phobic
This rare and exotic penguin specimen, as to be predicted, suffers adverse reactions to sun exposure. She gets a horrible sunburn when…bah, screw global warming.
Penguin's vulnerability to heat is quite similar to the cooking motion that a piece of cheese goes through. The cheese will either melt, or get grilled till chao da.
2.They both need a cool habitat.
Penguin hides in her fishie-laden igloo while Cheese resides in her, well, cheesy, fridge.
3.They are both cheeseen.
They need to be fed with a strict attention-only diet. Please DO NOT feed otherwise.
4. No petting allowed.
Failure to adhere to these rules will force Penguin into extinction and hasten Cheese's aging process hence make it grow (m)old.
Save them now.