It's autumn!
Autumn clothing is one of my favorite because i think it could be the most sophisticated and stylish, as it unleashes the best creativity of a fashionista. When i look at how fashion people style themselves, i always look forward to what they do in autumn. It's not too cold that you will only been seen in the thickest jacket 3 weeks in a row, but it's cool enough for you to play with lots of layering, and i love that.
EMODA's AW2014 theme is Rockabilly Dolls.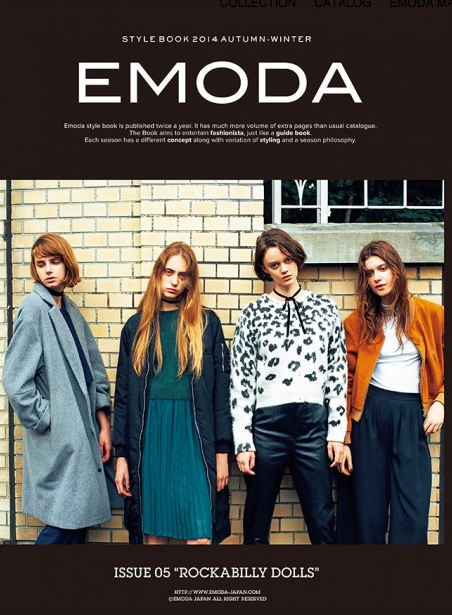 Check out those shoes!!!
Always love Rotation Coordinate and the inspiration it gives.
Some of EMODA's early autumn pieces.
New arrival on EMODA Global.
My coordinate!
Coordinate 1
Shoulder tie-up top and Side band high-waisted jeggings . Wore the exact coordinate last month, just styled it differently.
Coordinate 2
My pregnant dress bought from EMODA press sales in Tokyo, and the bag that got lots of lots of likes! This Box Pouch Bag still available in EMODA Global, on sales too! Clear sandal heels from EMODA too.
Coordinate 3
In this coordinate:
Heart logo tee : Recently in love with simple T shirts.
Roll-Up Ankle Jeggings : Forever in love with EMODA's jeggings. I am so addicted to them i want to have every single design and colors!
T-Strap Lady Pumps : I haven't had a pair of stilettos for the longest time!! So used to wearing flats and wedges since pregnancy, this pair is my new obsession!!!!
Clear Shoulder Bag : Ladies you are in luck. This bag is stillavailable AND on sale.
Coordinate 4
Square Decolette Flare Dress, bag, iphone case and sneakers all from EMODA.
Pregnancy inspired me a lot how i could play with usual clothing that could be worn DURING and AFTER baby bump. And i sort of got used to wearing super comfy now i just keep going back to it. Maybe… the dress could be for future use too…? 😛
Coordinate 5
Some of the latest arrival!
Maxi coats were hot since summer time, so comes autumn it gets thicker and naturally Maxi Trench Coats are this season's essential. Available in Navy and Beige. Leggings and pumps are the same as above!
Coordinate 6
Rockabilly Doll's signature print: Heart Spot Knit Cardigan. Also available in Red and B&W. Somehow green appealed to me the most and i'm also lacking this hue in my wardrobe to play around with!
Leather skirt, enamel shoulder bag and socks are also from EMODA.
And for more new arrival, read EMODA's latest magazine!
Don't forget to follow EMODA on Instagram to see their latest collection! <3