What is Tokyo without having ALLLLLLL the awesome food!!
Before i had Junya, i could eat the entire Tokyo if i wanted. The only problem was the space of my stomach. But not now when i have a little one glued to me 24/7. My choice were limited, i had to think thrice before deciding where go eat. My whole knowledge about dining in Tokyo was corrupted and had to start from ground zero.
Or so i thought.
It turned out, the only thing i didn't have was probably tequila. I fulfilled and checked all items off on my Tokyo Must-Eat list, including sushi, ramen, yakiniku, hotpot, pasta, gyutan…… It was quite amazing! We went to all the restaurants we couldn't previously fathom having a tiny baby around at, and we survived (gracefully).
So! Although this post may not serve as a guide to all baby/kid friendly restaurants in Tokyo, i hope it gives you fellow mamas out there a little idea of how dining out while traveling in Tokyo with your little loved ones would be like. In this post are all the places i have dined in with Junya along, some of them may not even be baby/kid friendly, but we made it through without major problems, so i'm assuming it would be the same for you guys!
And this is just part 1.
Let's start with the first 10 restaurants!
1. Latte Chano-Mama, Isetan Shinjuku
Ok this is the only exception, i visited it alone during my solo trip last month, as it has just newly opened in 2015 (it was still under renovation when i visited Tokyo with Junya in Dec 2014). But this would be my Top 1 Recommendation for mommies with babies!!
Latte Chano-Mama is on the 6th floor of Isetan, Shinjuku next to the Baby/Children's department.
It is a cafe specially and exclusively created for moms with babies. (I didn't have one with me so i was too shy to go in T___T) Look at the amount of strollers parked outside!
The menu price may be on the higher side, but it is Isetan-standard so i would very gladly pay for what it is worth! Their menu selections are healthy and wholesome, which i think suits the concept just perfectly.
I had a peek inside…
And i felt like i have just entered paradise.
It may look like nothing to you, but as a mother, i saw lights and heard the angels sing. T___T. I mean, if you have a baby you would resonate with me about the pain of dining out with a baby.
But not here. It's a no-table concept cafe. Everyone is seated on comfy couches where your baby can lay down, relax and play. Food are served on a tray next to you by friendly waitstaff. Your baby won't be screaming to get out of a high chair. He can even sleep next to you.
I saw moms chatting happily, catching up with their fellow mommy friends, breastfeeding their young ones, playing, laughing… Basically have a social life. At ease.
Heaven.
And i promised myself to bring Junya here when i come back to Tokyo the next time.
And i want to sign a world-petition to make it compulsory to have a cafe like this every 5km on this earth lol.
It may not be as glamorous as Ginza or as chic as Harajuku, but i fell in love with Ikebukuro. Mainly because it is just perfect for family. It has everything.
I was very glad the danna chose to stay in Ikebukuro! Nearby our apartment there's a mall (rather old-fashioned) called Sunshine City, which is perfect for family outing. There's a theme park called Namja Town, and then there's the biggest Pokemon Center in Japan, an aquarium… etc etc.
There's a kid's room AND a baby room. And a million auto vending machines.
I love their food street!!!!
They were running a Kids Restaurant Fair where all the restaurants had participated in creating special menu for the kids.
And they are of course, cute until cannot.
If you love Mentaiko, welcome to heaven.
Hakata Motsunabe Yamaya, HAS MENTAIKO BUFFET FOR 926 YEN T__________T。Eat till you explode.
Unfortunately we went there after 14:00… so we had to go for the next best thing… Gyutan.
They even have kids plate in a Gyutan restaurant!!!!
Junya was sleeping through the whole lunch.
Itadakimasu.
It was so good there wasn't a single grain left on the plate. (The brown looking things were bones)
3. NALU Cafe Omotesando
Of course we had to go to NALU (76 cafe)!
Met Qiu Qiu up for the first time during that trip.
Hello! The basement is non-smoking and more quiet and spacious, so it was quite nice! There's however a staircase so if you have a stroller you will have to leave it on G floor or carry it down.
What we had for dinner:
1. Super cheesy nachos
2. Chicken Over Rice
3. Burger with chilli fries
4. Taco Rice
And also pork rice bowl.
With Josh, Qiu and her bff Mich! And a little quilted bear lolol.
4. Ootoya
We went to Ootoya several times this trip simply because it is so awesome. Family-friendly, value for money and so so so yummy!
Qiu and Mich bought their ichigo and we shamelessly wefied in the restaurant for 10 minutes.
White strawberry!
"Borrowed" from Qiu to selfie HAHAHA.
Ootoya is roomy and has big tables, but they also have individual tables so it's perfect for solo diners. The danna told me that Ootoya's policy is to never open at G-floor because ladies who eat solo feel more comfortable not to be seen lolol. I guess i can relate. A lot of times i have to eat alone in Japan but got sick of combini (GASP!! I know right???? Since when did I get so spoilt!!!), and restaurants like this (along with Yoshinoya, Sukiya, etc) would be a good idea!
The foooooood. So nutritionally balanced and yummy too! If i'm not mistaken a set like this cost only like 800 yen (RM24)?!??!!?
5. Abura Soba, Ikebukuro 
The danna said this is a famous ramen shop so we went to try it. I have never seen any babies in ramen shops before (Japanese family don't go to ramen shops as it is mostly for lone diners), but i decided to be very touristy and just gave it a try.
The restaurant was very narrow just like any other ramen shop, but it wasn't very packed, so it was not too bad! I don't think there's any way to get your stroller in if you have one, so your best bet is to wear your baby, preferably sleeping XD.
Anyway, ramen is extremely tricky for baby-wearers because of the hot soup -__-. I mean, you can hold a mini umbrella above your baby if you like lolol but!! This Abura-Soba (oil ramen without soup) is much easier!
Just noodles with thick creamy sauce which you can eat with just one hand and a pair of chopsticks. SO GOOD!
Achievement unlocked: Ramen shop — conquered.
 6. Hanamaru Udon
Since ramen shop was a go, udon shop should be easier!!
Except the danna had to do this…
But turned out there was an elevator at the back of the building so we used it on our way down.
I think Hanamaru Udon just arrived in Malaysia few days ago at Mid Valley! Yay! Can't wait to try it out!!!
Junya was sleeping in the stroller. The best thing about young babies is that they sleep. A lot. (Junya just turned 6 months back then.)
Sliced pork udon and Mentaiko Ginger udon and tempura on the side.
6. Ebina Express Way Rest Area 
If you drive by car on highway, it would be interesting to a quick stopever at the rest area for some snack! We stopped by Ebina on our way to Hakone with Qiu and Josh.
It's canteen/food court style so you could order anything you like and share.
The baby chair was too big for him so Qiu offered her coat as cushion and Josh offered his scarf for seatbelt lolol.
Our lunch <3
7. Uogashi Sushi Shop, Gotemba
Our most favoritestest suship shop!! I was very very happy because i didn't expect to be able to have sushi this trip, as sushi restaurants in japan are either sushi bars that are too narrow for babies, or too atas (high end) for any unwanted noise or trouble.
But this restaurant was a kaitenzushi (conveyor belt type) with lots of big tables as Gotemba is a family place, awesome!
There's always a line though, usually about 10-20 minutes.
Ordering our sushi!
Our lunch and Junya's lunch XD
Anyway i quite love traveling in winter because of all the stuff that could make impromptu mattress/pillow/blanket for baby lolol.
I have blogged about it before but here it is, Sun~~~goi Uni and Sun~~~goi Ikura.
Kani.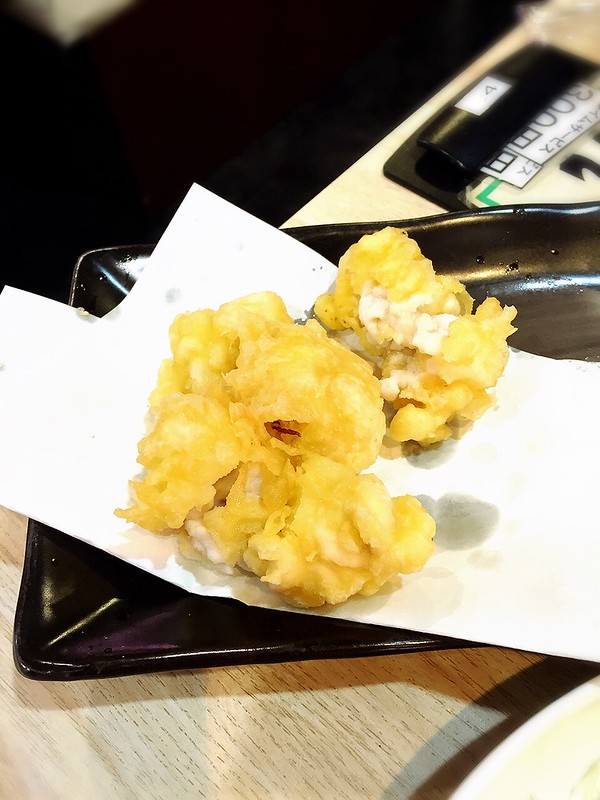 Shirako Tempura.
8.  Supajiro Pasta Shop, Roppongi
If the restaurant is not too full, even counter seat is possible! The staff removed one chair so that we could slot Junya's stroller in between us.
Danna's bacon and spinach pasta.
And my vongole. Which was really good!! Even the danna said it surprised him cuz he is usually super picky about pastas.
9. Big Boy Dining 
This one is a legit family restaurant. If you don't wanna take risk and get rejected at the door, the best bet is to go to family restaurants (Famiresu) in Japan, which are eating places that are very affordable, spacious, often come with an extensive menu and open till very late night and most importantly kids friendly. Examples of family restaurants are like Jonathan's, Saizeriya, Royal Host…
I was very upset that we couldn't go to Gold Rush (the best hamburg in the universe) because the danna won't allow, saying that it's too narrow and smoky for babies :(((. To make it up, he drove us to Big Boy Dining. It's a hamburg/steak place for family!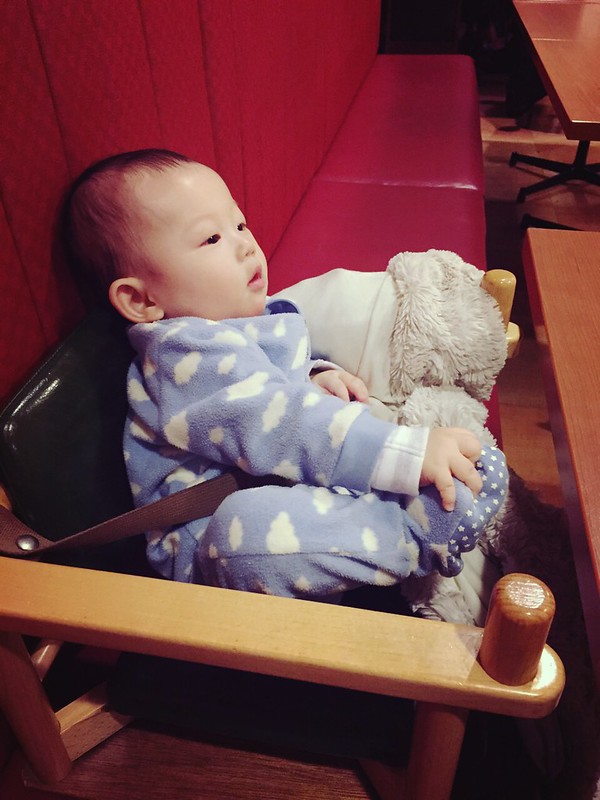 JunJun's high chair
There's of course kids menu! But Junya can't have them yet.
My hamburg!!!! <3
Ok la it was nowhere as good as Gold Rush but still, a satisfying meal!
JunJun having his carrot snack.
There's also free Gatcha Gatcha for diners!
10. Kyushu Sakura Motsunabe, Shinjuku
Usually Izayaka is a no-go for babies because 1. people smoke inside 2. it's super noisy and 3. many drunk people lol.
But if you must, go for one that has koshitsu (individual room). Danna called and reserved a space. Anyway it's not really an individual room, just a space separated with blinds. But that's good enough!
We could hear people chatting out loud next to us, but with the blinds it gave us enough privacy, i could feed Junya and let him sit down for some rest.
Hot pot!
<3
Junya can relax and stretch a little after being stuck in a carrier for the whole day.
My motsunabe dream came true.
That's all for Part 1!
These are all the danna's ideas (usually he asked me what i wanted to eat, and then he find one that we could bring Junya along). In the next post i got more adventurous so i brought Junya out on train alone to meet friends and have lunches/dinners. Even with a clingy baby you still can have a life! 😀 Having experienced it the first time quite successfully gave me a light of hope XD
Let me know if you want to know anything else about eating out with baby in Tokyo! 🙂