I've been rather cheeseless these days really. So i decided to have a compensation by going to ikano and raid down the cheese aisle. And i've got 3 cheeses in my trolly. =)))
Arla Harvati Cheese (Sliced)

Brand: Arla
Product Name: Danish Havarti
Availablity: Cold Storage
Price: RM13.39
Country: Denmark
Milk: Cow
Texture: Semi-soft
Oh! I didnt know Danish cheeses are Holy too! It has irregular pin-holes.
Havarti is creamery and semi-soft. At first bite it tastes uncannily similar to mozzarella. But when u chow down more, you will find it slightly less chewy but it has a more distictive flavor than mozza. And yes, it melts!! Great on toasts, or in between. Simple and sweet. Ok, not quite literally.
Trivia:Havarti is named after the farm in Denmark where Hanne Nielsen first made it.
Cheesability:






/10
Mainland Colby Cheese(Block)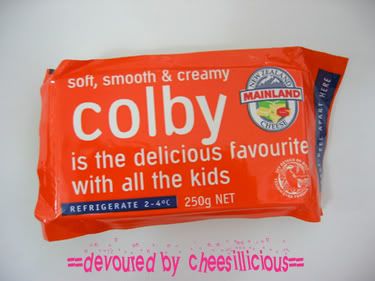 Brand: New Zealand Mainland Cheese
Product Name: Colby
Availablity: Cold Storage
Price: RM9.39
Country: New Zealand
Origin: Colby Wisconsin
Milk: Cow
Texture: Semi-soft
At first i suspected Colby is not a type of cheese cuz i only came across it very recently, when a friend told me about it. After a long research it seems like Colby is a fake version of cheddar. No offense but im a true-yellow fan of cheddar. Gourmets often compare it with cheddar and it is supposed to taste similar to cheddar. However, i find no resemblence whatsoever between these two cheeses except their initials. Cheddar is savory, whereas Colby is slightly sweet and sharp. To me it shares more similarity with Emmentaler or Gouda. Also, Colby tastes very very buttery. I dont quite like the idea of chowing down a whole block of butter.
So it's a fiver.
Cheesability:






/10
La Vache Qui Rite Cheddar(Sliced)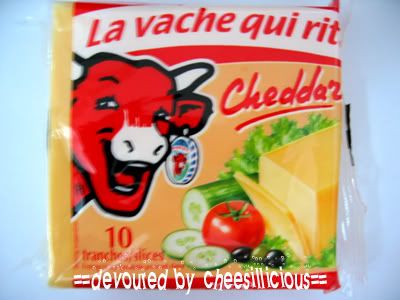 Brand: La Vache Qui Rite (Means Laughing Cow in french)
Product Name: La Vache Qui Rite Cheddar
Availablity: Cold Storage
Price: RM6.99
Country:
Milk: Cow
Texture: Semi-soft
Seriously, i never have any doubt when it comes to Laughing Cow. I've tried almost everything from it and none of them was disappointing. They have some of the best cheeses among all other brands ever found in local supermarkets. There're many other Laughing Cows, but i was physically attracted to the sexy orangey cheddarish color which sent the strong message that says "pick me, i am so kao". LOL! Anyway.It looks just like your Cheesedales wrapped in the exact same plastics, but it is the best sliced cheddar i am pretty sure.
Much to my relieve, the color is not deceiving. In fact, the kao-ness is pleasantly strong.
Cheddar away! Strip it and melt it in your mouth! Or wherever u like. LOL. Mind you, this is helluva sexy cheddar.
It is the cheapest among all three semi-soft cheeses yet the highest rated.
Cheesability:









.5 /10
*All reviews are done simultaneously with the tasting process for optimum quality*