I finally got back my CF card and managed to finish this ultimate Goli Party entry before going off to Taiwan. See how good i treat you la. *chuckles*
It was a charity fashion show featuring some celebrities, as well as a mini gathering for all Lolitas in town.
Me and Aki really went all out for this big night. All the shopping and buying tickets beforehand, and on that very day, making sure our camera batteries were fully charged, sufficient memory for a mountain full of photos, getting dressed in full Loli costumes and hours of make-up-kao-kao. No la, that's an exaggeration =P
Anywee… The Chronicles of Goli: The Lolitas, the Gothic and the Chiizuko(2005)
LOL so enjoy. =)
P/S: Read slowly cuz you won't be seeing new post for 5 days, till i come back! =)
.
.
.
.
.
.
.
Getting ready! Make up make up!
Shoes, boots…
Of course, picture…
On the way…
Finally, reaching Zouk!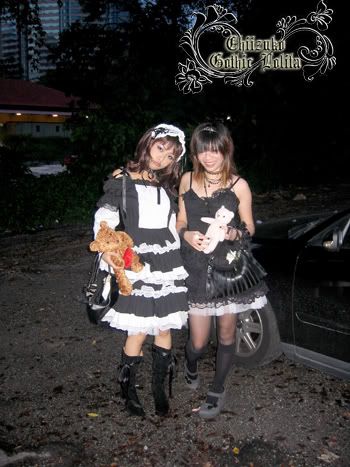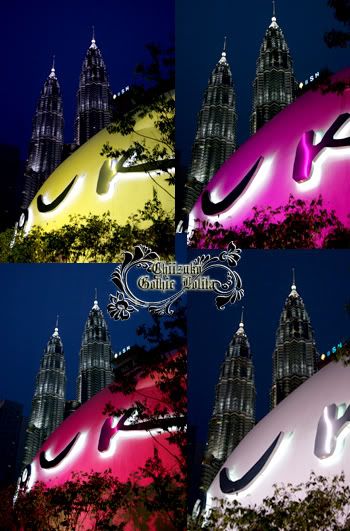 Lolitas Galore!!!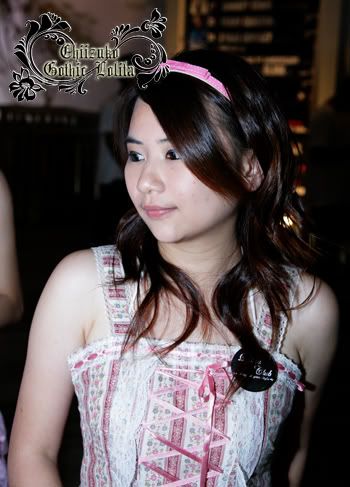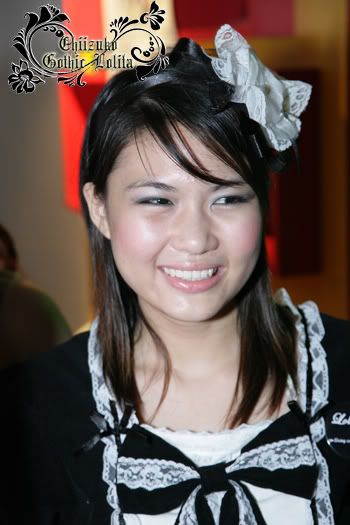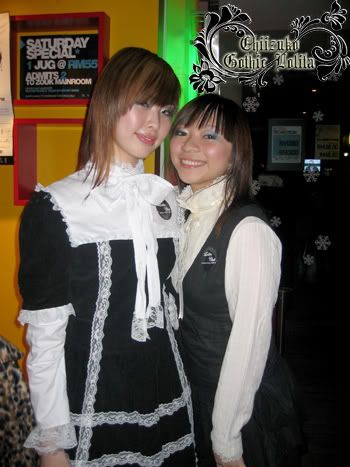 And of course……
The Chiizuko and Sakura Special Combo!! (That make us sound like a cheese steak, LOL)
And of course chances to be photographed with all the other Lolitas!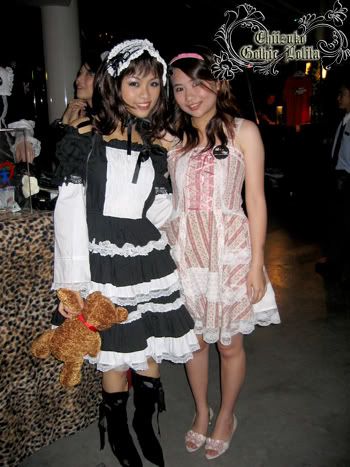 Sweet Sweet Lolita Ice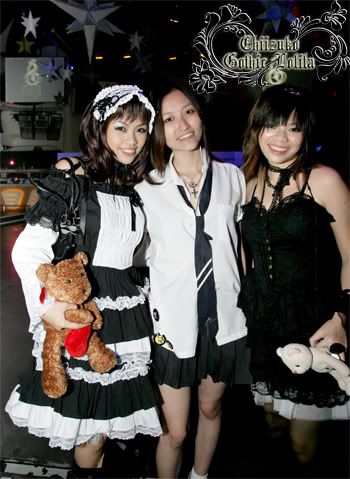 Punk/Casual Lolita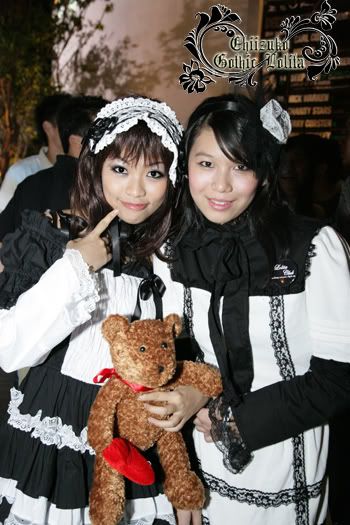 Elegant Loli Nikki

Another cutie loli

Another Seremban Lolita Nicole! We have 3 Lolitas from Seremban already!

A mini group photo
While some Lolitas are getting ready before the party…
some are playing with their teddies out of boredom before the party…
And hor, suddenly……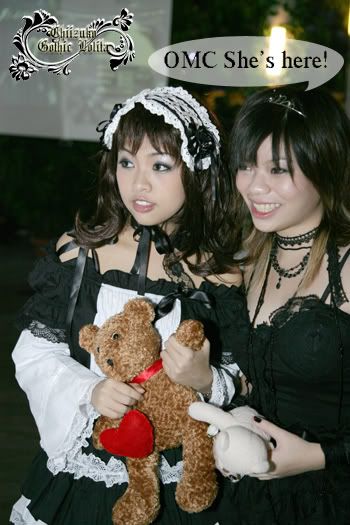 This is HER sister
But!
WHO
IS
SHE???
>
>
>
>
>
Tadaaa…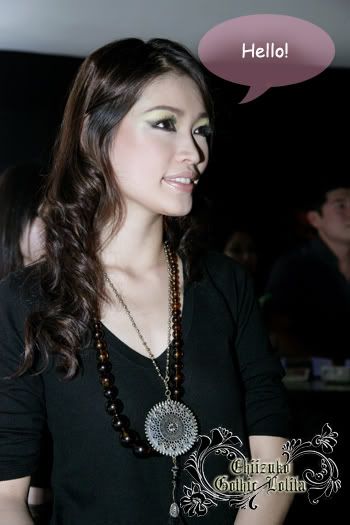 Ahhhhh! Amber Gorgeous la who else.
Then she came and sat together with us.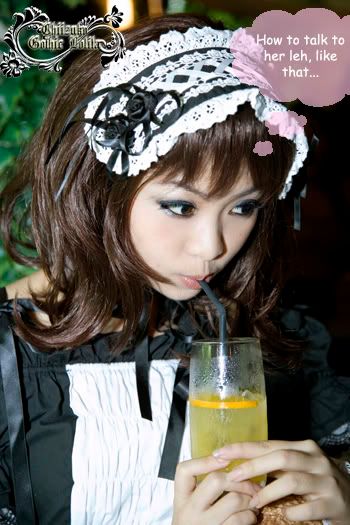 But she started to talk to us, saying our costumes are nice etc etc… Then she even took out her super cool new Sony digital camera and wanted to take a photo with us…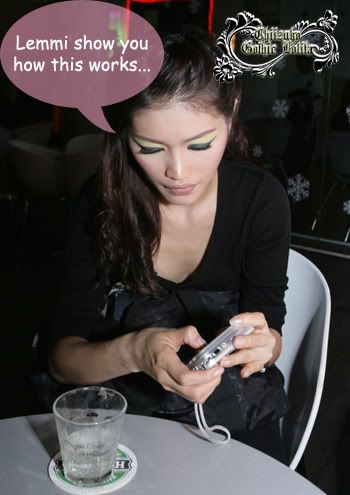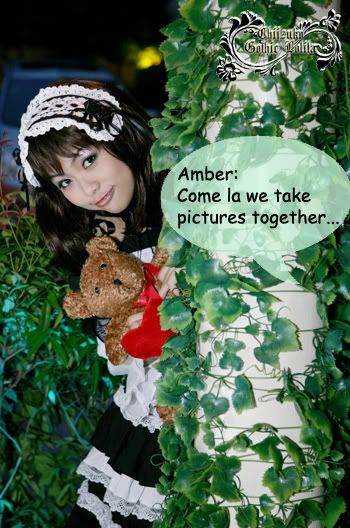 Eh eh paiseh…

She is so nice la, belanjaed me and Aki Hot Dog buns… LOL.
And finally, fashion show time!!!
Wait, before that lemmi show you some magic.

This is the free drink we odered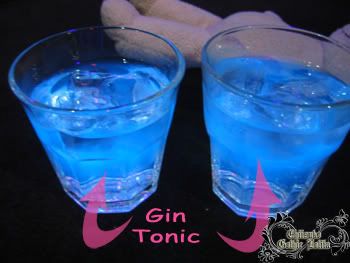 Hola, it glows in the dark!!! If only they have glow-in-the-dark cheese. =P
Anywee… Gothic Lolita Fashion Show at Zouk, 17th Dec 2005.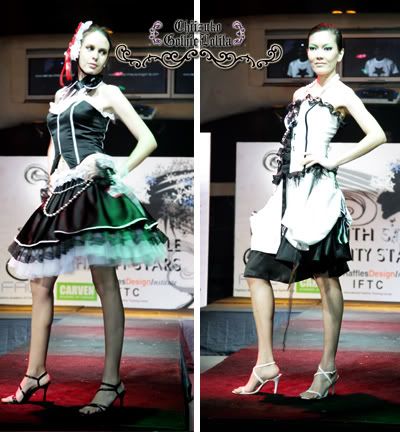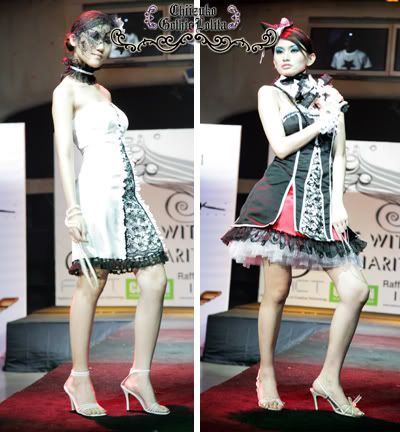 Amber's Special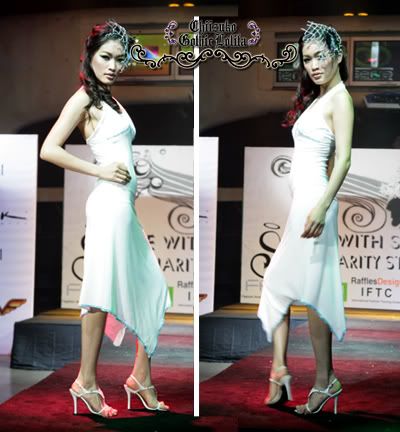 Besides that, we also met…

Miss Malaysia 2004 Gloria Ting

Miss Malaysia 2005 Emmeline

Kinky Blue Fairy Joyce Wong who came with Adam
Wa… happy oredi, tonight can't sleep d…

And time to say goodbye!

Before ciaoing, one last group photo! Join the Elite Gothic Lolita Doll Clique!


So who is the loliest loli? =)
Then people started hogging the Lolis wanting to take photos with them also…
And how could we forget to get each other's contact for a Goli night out in the future!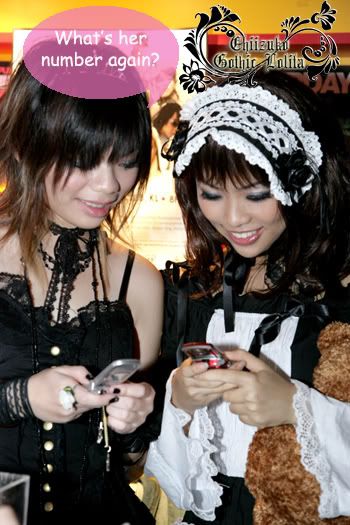 End of the first ever Goli party. I don't need to tell you we had fun! =D
Anywee, gotta ciao to airport soon.
Coming back on Xmas day itself, till then…
MERRY XMAS!!!!
Photos courtesy of Exca