The most sought after Taipei photossss…
I'm lazy to type, so let the photos tell you the story. =)


Cheesie@KLIA

With mommy dearest, making sure we brought the passports, hehe

Flying China Airline @ 3.15pm
And finally…
Reaching Santos Hotel, 9pm local time.
The only place that was still open at night around the place we stayed is Shi Lin Night Market. What the heck i'm in Taipei, so let's go wherever i could go!!

Taking MRT from Min Chuen Xi Lu Station

For a moment i thought she was Yanzi, then i thought she was Fiona Xie, but found out that she actually is Yanzi. =)

This plastic surgery ad is everywhere in Taipei. Wonder why Taipei chix look hot? =)

Kawaii!!!
At Shi Lin Night Market
There's this thingie called the "Crazy Catch", which your mom will tell you "Aiyeh, dun waste money, cheat people wan la" but it's really hot in Taipei and it is everrrrrrywhere!!

Look at their toys man, and compare with the ones in Miss-and-Mr-Lala-Plaza. No wonder it's so tempting la.
And hor, here come the puppies!!!
Kawaii ne? But check this out. It's selling everywhere too!

Think only YOU need to pan leng leng? =P
And also, don't forget the fooooooood!!

Taiwan pearl milk tea chain

Fresh fruits. But i think the fruits we bought at this stall were way overpriced. But what the heck i miss those persimmons!

Some pasar malam delicacy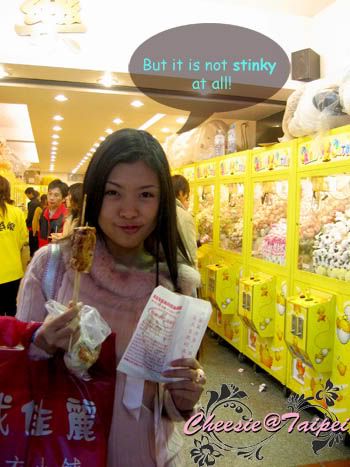 The (in)famous Stinky Toufu!!
Now lets look at the fashion…

This place sells LeSportsac pasar malam version. Cheap and nice!

This place sells all the kinky bedroom wear, however kinky you could imagine… *chuckles emo*
AND I FOUND SOMETHING I SOOOO WANTED!!!
Okay before you think i'm cheesily perverted, check these out.

French maid, Kogyaru, Sailor, Erotic Kimono, and Bunny Playboy costume!!!!! *pengsan emo*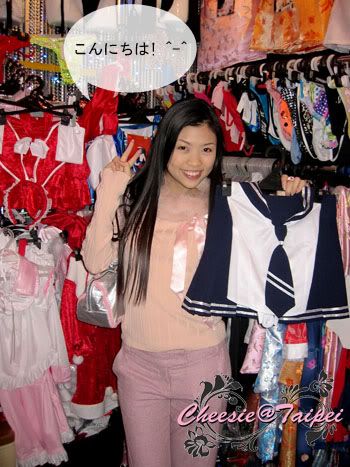 The first day (night) in Taipei was extremely productive. =D
And hor, i curi-curily snapped a lot of pix in places where taking photos is not allowed just to show you how lovely Taipei is. See how good i treat you la! When you belanja makan heh? =P
Now, stay cheesed for Taipei Day 2! =D