We learnt something after Day 2: Get up, eat your breakfast, then sleep again. But make sure you don't oversleep. =P

Grabbing a cuppa on the way! It is Pudding Milk Tea today. =P

On the way to Wu Fen Pu

Here we are

By the time we got to Wu Fen Pu, it was just a good time to shop. =)

Gosu Loli shop!

They have more of Punk Loli than other Lolis.

More Putumayo style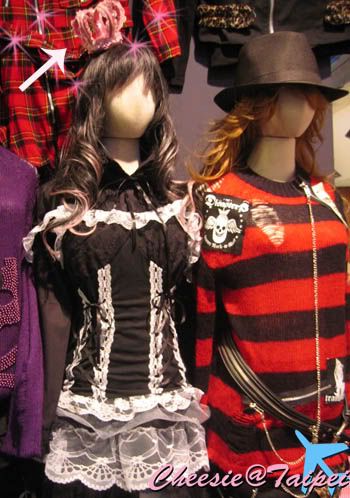 Check out that little pink crown! I wanted that but the owner said it is not "wearable" because they used thumbtacks to secure it on the mannequin!! But i don't wanna end up the way Parie did in House of Wax… 0_o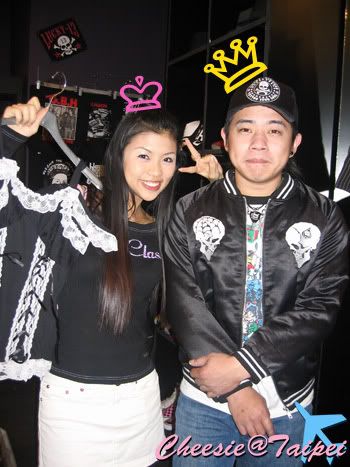 Nevermind lor. DIY lor…

*edits* BTW. Everyone in Taipei thought i was wearing hair extensions. This dude asked if my hair is real. I was like WTC of course it is. Then he said if he ever sees anyone with hair THIS long in Taipei, it MUST be hair extension.
Okay, so Where's Natalie Portman already? She hasn't returned my call…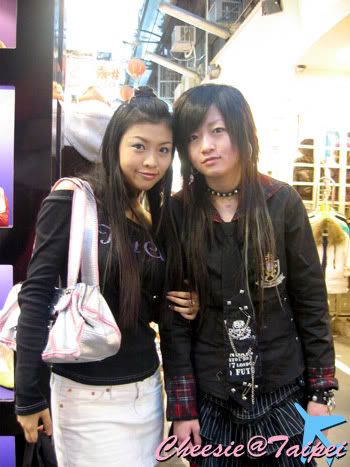 Spotted a Punk Loli here. And i'm sure SHE is wearing some hair extension.
Went to Shi Lin Night Market again in the evening. Apparently there are yet so many places for us to explore. For one the Shi Lin Food Court. It is super crazy. It's a whole mall of food!!! i have never seen so much foooooooood in my life. It is a bit scary, imagine trying all of them. You prolly need like 2 months to try out everything half the food there. 0_o
Then the pet shop, where if you stand put in front of the glass for one minute you will hear the phrase "好可爱哦~~~~" (That's so cute~~~)over and over and over again, for 36 times.

"Ah i smell cheese!"
Guess what is this for?
This cubicle hor, is a recording studio for Jolin or Jay Chao wannabes. You pay, you sing, your songs get recorded and burnt into a CD, with YOUR handsome or pretty face on the CD cover i think. (Can't imagine Mr Hello Kitty Pretty Boy's reaction if i tell him about this. He'll prolly go like "OMG when is the next flight to taipei?" LOL)
And more foooood…
It is…….

In case you don't read chinese, it is squid ink squid sausage. It's yummy!

You see all these weird stuff everywhere. Mom won't try any of them for NT1000 and i don't wanna stuff myself like Yong Tau Fu so next time lor.
Some city night view in Shi Lin
BTW
They say you have not gone to Xi Men Ding if you havent tried the Ah Chung Mee Sua there. So yes i went there again, 2nd time. JUST for the mee sua.
Because i don't want to be a loser. ;P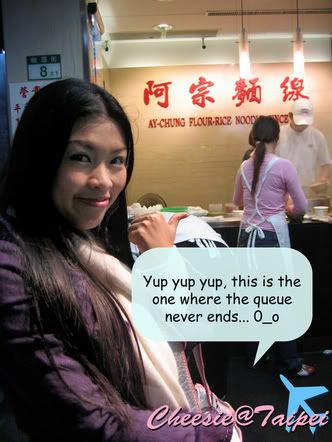 There's no table/chair whatsoever. And they sell ONLY mee sua and mee sua alone. Everbody just lines up, orders (big or small bowl),pays, grabs a bowl, looks for a place to stand (sometimes it is so crowded you feel as if you are among a bunch of starving inmates) , gulps gulps gulps, gobbles gobbles gobbles, ciaos.

Naish? Nah. I'm not telling you. Go try yourself! *chuckles*
And chang chang chang!!! This is my biggest trophy of the day!!

A decent kaftan top for freaking NT100! =DDD (And boy is the quality good! Mom says the amount of cloth used is worth more than that oredi)
Same thing, stay cheesed for Day 4!! =D