I don't.
This is One Utama.
The decos are up, Christmas songs are played, Gingerman cookies are sold, people are wearing Santa's hats. But i. can't. feel. it.
I just can't. 🙁
With all of these christmasy neccesities, it just somehow feels…… fake.
It's like, eh? WTF are the Christmas trees doing here?

Maybe time really flies and i can't accept the fact that Christmas is around the corner again.
I adore Christmas.
I don't know much about the story and origin behind it, i don't know why turkey is served with cranberry sauce and why you can't reject a kiss from a person who stands under the mistletoe with you, i don't even know the proper ways to celebrate it. But i just love Christmas.
I love the feeling of it. The sight of it. The sound of it. The word Christmas alone is happy. My heart lights up whenever a Christmas song is played.
Christmases are all the same. Why can't i feel it this time around? Maybe it's still early? Maybe the weather is not right? Maybe i have no plans for celebrations yet? Maybe i don't see any Christmas movies yet?
MAYBE IT IS KL?
I try to avoid spending Christmas in KL every year. It feels especially lonely.
Oh come everybody come party at zouk then velvet then cynna then poppy then drink then drank then drunk.
Like, what the.
I wanna go somewhere. Anywhere but KL. It may still feel lonely, but it's a kind of beautiful loneliness. I miss feeling Christmas in Singapore. I felt it so strong i almost teared. I don't need to do anything special. Just walking around, listening to Hayley Westenra, and feel it.
Like i said last year…
It's everywhere. I like the way it makes me feel that i'm surrounded by something pretty. It's some happening loneliness. And that is beautiful.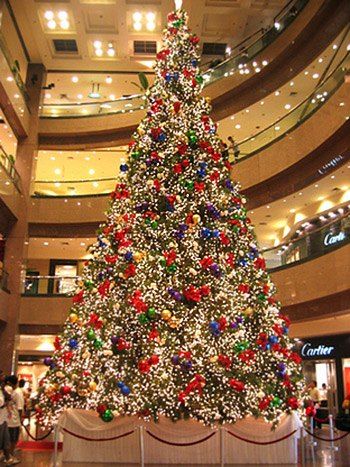 Xmas tree in Takashimaya
Really wanted to go somehwere too for this year's Xmas. Hongkong or something. Don't even mind going back to Taipei. But i guess i'll have to stay. And drink. Bah.
By the way Sze Kerng just got back from Japan! I'm gonna steal some of his pictures and post it here. And he bought soooooooooooo many Kit Kats of different flavors. I'm gonna post them all up. 😀
Ok cool too much Nihon Sakari. Night!