If you insist, I will tell you how my CNY goes.
It has been monumentally unhappening.
I came back to Seremban and have been lazing around at home for one and a half week. I'd like to summarize the whole CNY routine as below:
Eat. TV. Online. Eat. TV. Online. [ad nauseam]
Ok la you've got me. I cangkuled some Big Ds too. Hehehe.
Oh, and how could I forget my LOST journey. I finished the whole season one in two and a half days.
Jack Shephard!!!!
He's so cheese damn bloody sweet. More of him will give me diabetes.
If Jack Shephard (note: I'm talking bout the character, NOT Matthew Fox) does exist in real life, I will……
Wait a min. What are you thinking?
Hell no, falling for him is prolly the last thing I would do. Though I very x999 much want to. Hold it, baby!
Why? Because he is a hero.
And falling for a hero is catastrophic.
Human/manusia/homosapien/ningen is selfish. If I want him I want him all to myself.
You don't want your man to be pouring his blood to some guy's arm when an accident happens.
And I heard in the upcoming season, there're stories about how that great heroism of his eventually drives him and his wife Sarah apart. Sighs.
Anycheese. Jack aside. Lemmi show you my CNY diet.
Mom's the fast health food expert. Tell her you're hungry and in five minutes she will come up with something healthy. Quite delicious too actually. She's highly capable of making fast healthy dish, but anything that requires more than an hour's preparation and cooking, I'll suggest lets head to Pizza hut. She (actually, we) tried cheesy lasagna and ended up eating Nisshin Noodle.
Well. Forget it. Because I actually love fast health food.
Below are some very fine specimens of my typical daily breakfast, lunch and dinner. And in-betweens. They are all done in less than 5 minutes.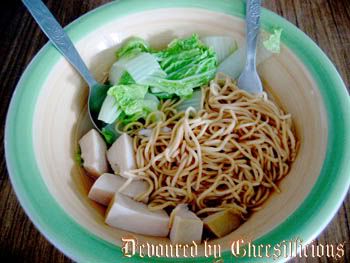 Noodle with veggies and, guess what? Abalone! I made her cook it as simple as possible, lest she spoil that expensive stuff. Haha. It was good.

Meehoon with broccoli and, guess what? Leftover abalone! lol. It was gooder.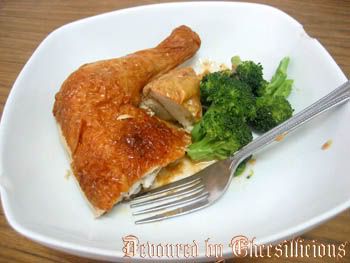 Chicken and veggies. In case you are wondering how to get the chicken cooked in 5 mins, it's ready-to-eat frozen Ayam Percik from Farm's Best. (Btw what does percik means? Mom asked me and I was baffled. I threw away my BM dictionary as soon as I finished my SPM Bahasa Melayu paper. Please enlighten me!)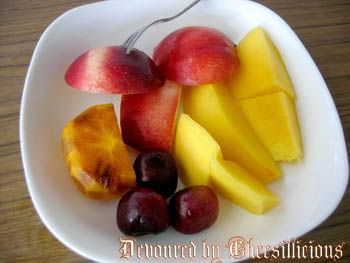 Fruit platter. Peachie, Persimmon, Cherries and Mango.

Fresh Lettuce. Like, for snack. She even made me eat capsicum. Raw.
Yucks!
>_"Whoa Cheesie, that's like so little and damn healthy lor. How come you still say you gain weight geh?"
-_-"
Don't forget people, the good (or bad?) thing about home cook food is, you always can have second, third, fourth helpings. So suit yourself.
"Oh I cheese. Eh, how come I don't see any cheese in your diet geh?"
Wait la.
I not only chomped on the fifth helpings… I erm… indulged in one too many junks that I'm too guilty to show.
-_-"
Cheese here .