This was back on 1st January 2015, when Junya was 6 month old.
The first of January marks the first day of Oshougatsu (Japanese new year), and this year we decided to spend our new year with family in Nagasaki. ❤︎
Haneda airport!
Whose baby is that???
Entertaining the baby.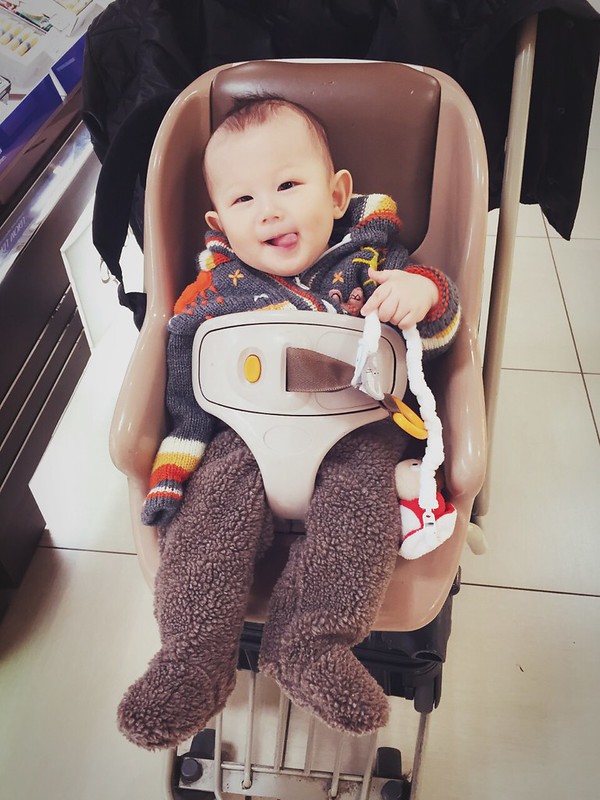 😛
Rainbow crane photo frame!
Our first meal of the year at a soba shop. Usually people eat soba on new year eve, but we only had instant soba the night before lolol so today was revenge day XD
This white thing is Sasakama, a type of kamaboko (fish cake).
Danna's zaru soba.
My Tempura soba with Sansai topping (still going on and on and on about eating vegetables in Japan whenever i could XD).
And.. flight time!
So cute wan! Junya's flight ticket has a milk bottle on it! 😀
Again, Mama's privilege, i get a paper cup with lid and straw 😀
Working papa and wefie'ing mama&bb
After surviving a 7 hour flight KLIA -> Narita, i was much much less stressed about flying. The horror of the much feared ear pressure discomfort didn't really happen thankfully, and he was all smiles 😀
I could say that flying with a 6 month old was a really happy experience. But i don't dare to say the same now -___-.
We are bringing Junya back to Japan in May and he is going to turn 1 soon. He can't even sit still on a high chair right now much less strapped to me on an airplane seat. -_- I guess there's new horror to meet soon lol. We'll see. We'll see.
Already miss the 6-month-old him. T_T
Why JAL so awesome!! All the kids get free gifts to entertain themselves on the plane. Maybe that's why Japanese kids are quieter on the plane.
His first chor dai dee HAHAHAH
And finally falling asleep :')
Peeking out the window i saw snow mountains with fluffy cloud toppings stretched beyond he horizon.
Zooming in, i could even see snow fields!!!
So amazing T__T.
So it was Junya's first ever visit to his papa's hometown, Nagasaki. After checking in to hotel, we headed straight to Jiji's (grandpa) place.
It was also Junya and Jiji's first meet up. Soon enough the house was filled with neighbors who worked together (they are all like family, can't even differentiate anymore) coming to see the legendary grandson hahaha.
Japan's suburbs are so lacking in young children that when they see one it's like they see a precious baby panda. T___T
He gets alllllll the love. ALLLLLLLLLLL.
T___T
It made me want to produce few dozen of babies just to re-populate Japan lolol. Kidding. No i'm serious.
Jiji and uncle's homemade Osechi ryori (traditional Japanese new year dish).
They made all of them T__T.
The neighbor who runs a fish stall also brought along the freshest sashimi of the day.
Nagasaki is famous for its yummy seafood. And they are always served in the freshest way possible. Which explained why i had to eat a crying squid. T__T
Kamaboko eggs <3
After being passed around and drown in loving coos and awwwws , the little one finally fell asleep.
We talked a little more, and went back to our hotel to rest and watched variety shows till midnight.
I took this picture just to remind myself to empty the rack when i ever see this again. "Pepper Bacon" flavor  T___T
Total knock-out XD
Good night baby. Otsukaresama.
I am just so thankful we made it. Nagasaki is not a place you could go everyday. At least not from Malaysia. It's a good two hours flight from Tokyo and the tickets are steeeeeeep. But we know that we want to go back as often as we could afford. I love the city to bits. And to see a person as silent as Jiji beaming non stop just looking at his grandson, it was all worth it.