First day of Chinese New Year 2006 and i'm sitting here laughing non-stop over the first and biggest joke of the Dog year.
Sushi sent this link to me as my CNY present.
Cheese THIS out and read the caption carefully.
Ok nvm i know you are lazy, so i've made it easy for you.
Just look at this carefully.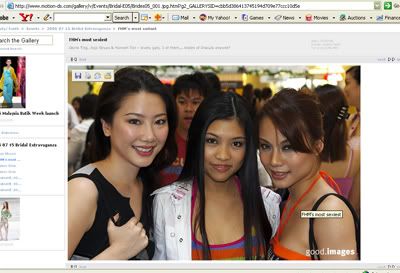 Then read the caption.

-_-'
ROFL right.
Come la, support me a bit, buy FHM! And i even did some bridal catwalk.
Well to justify the photographer's blindness, take a look at this.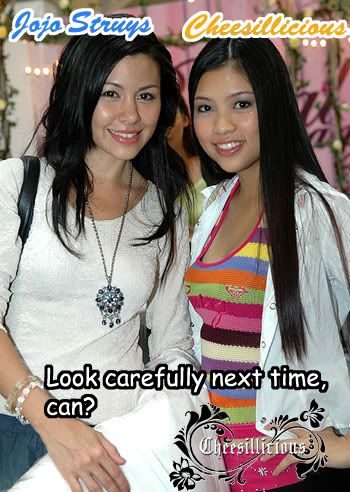 -_-'
Please la, we look absolutely different can?
*slaps face emo*
I don't know who the photographer is but obviously he's in dire need of some optical therapy. Or go read up FHMs a bit. Or watch more tv. Whatever.
My god. Jojo's gonna be really upset bout it.
ROFL.
Anyway, wish you a very cheesy new year, Gouda Xanadu Feta Cheddar!!
Erm, Gong Xi Fa Cai in Cheesinglish, in case you suck as a Cheesiple.