Pun of the day:
Once ablog a time…

Cheesie went to this gorgeous place with Mozzie.
Warning: 24 pictures in total. Come back in 5 minutes pls.
Was meant to publish this entry aaaaaages ago, but it's only up now, due to some odd reason season two.
La la la la la Happy Cheese Friends
It looks like a rich playboy's mansion from outside.
But this quaint mansion is actually a restaurant.
The place is seriously damn nice. It's very spacious and has several dining rooms, each carries a different theme. But unfortunately i can't tell you where it is, due to some odd reason season three.
Sorry!
>__
Very cottage-like, i like!
Oozing such rustic charm, lovely.
Convservative conservatory cafe chic.
Holy Couch! It has a halo over it! 0_o
It feels like home (OMC so coincidentally, my iTune is playing Chantal Kreviazuk's "Feels Like Home" as i'm typing the sentence 0_o. Creepy!).
If only the fireplace here was lit up… it would be so comfy enjoying an intimate get-together with my close ones, damn shiok right!
I could almost imagine dining here with my family and friends with a shower of snowflakes illuminating the wintery landscape outside.
If i were Tinkerbell, i'd make my home in this ceiling lamp. Such a warm ambience.
So Christmassy… Wait dammit is that a mistletoe? Waa cheeky la, next time i must bring my crush there. 😛
The food is not too bad. Limited choices but the environment sort of makes it up for it.
A mushroom starter.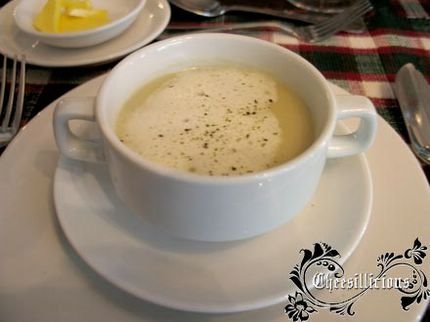 Typical wild mushroom soup…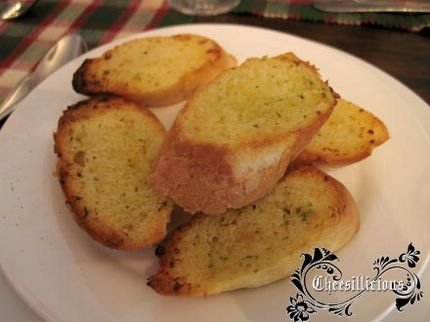 and it's sidekick garlic bread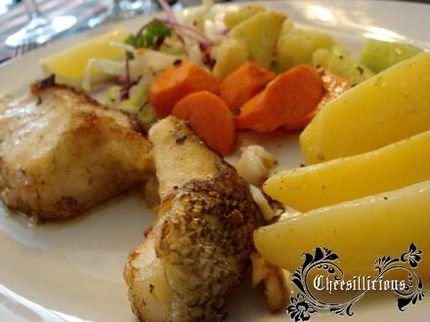 Grilled Cod.
and DESSERT!!!
Whoa i tell you, there's this thingie made up of tons of meringue and mix fruits inside, which looks like a flaming mountain (yea, they flame it! Using a FireAngel. :P)
and guess what is it called?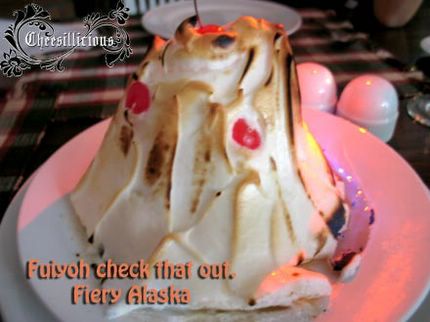 The BOMBE ALASKA

(to FA: it shall be named after you, go get an endorsement!)
Later we proceeded to another dining room.
*chants Happy Cheese Friends song*