[You can read also
Ep1: Yokohama
, and
Ep2: Miura
]
After Misaki Maguro Day Trip in the morning, we took a train to Kamakura.
I have actually been to Kamakura two years ago in the summer, and also stopped by Zushi beach for Hanabi Taikai (Fireworks Festival). It's really nice to come back again in a different season!
Kamakura is a traditional little town, many call it the Kyoto in Kanto area (Eastern Japan). So if you want to get a feel of olden Japan without traveling all the way to Kansai, you would love this lovely small city.
There are lots and lots of temples and shrines in the area, and the first one i saw happened to be a Safe Pregnancy/Childbirth shrine.  The shrine is called Onmesama Daigyoji. I made a request to go in.
I mean… I could always pray in advance for the second baby in the future? Haha. Plus does it just say 产女灵神!?!??!?!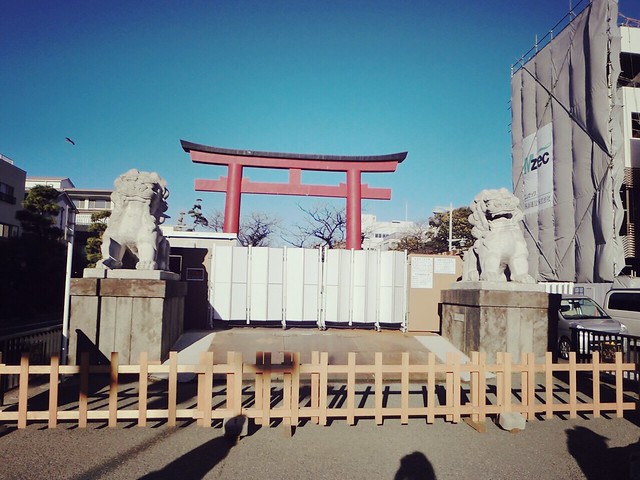 From Kamakura station, you will walk along Dankazura, pedestrian path of Wakamiya Oji street. The center is closed for road works now, but the path is flanked with cherry blossom trees, so if you go during Sakura season, it would be quite a sight!
Walking along the streets in Kamakura, you can see shops like these, selling traditional Japanese snacks, souvenirs, etc.
Little stalls are decorated with a dash of autumn colors!
Kamakura is said to be forever crowded. The guide told me it was a rather mellow day when you don't need to brush shoulders with other people and line up for food.
Ice!
Tenugui (hand towels) and handkerchiefs.
Dried fruit shop. I bought a pack of dried yuzu peel. It's so yummy!!
This is every tourist's kiasu must-buy in Kamakura. It's a dove-shaped cookie called Hato Sabure. The guide was a tad surprised that i haven't had one, because it's so famous there's probably not a Japanese person who doesn't know about it. And it's the standard souvenir among Japanese people, just like how all your friends will buy you Tokyo Banana. XD
Tasted pretty delicious! 😀
We made our way to Tsurugaoka Hachimangu, which is 10 minutes away from Kamakura station. There were lots of red and orangey hues.
Before going to Japan, i was quite sad that i was slightly behind the Koyo (autumn leaves) season, but now i am all satisfied.
Here are some of the koyo photos!
Happy now. 😀
This is Tsurugaoka Hachimangu.
Recommend you to take a walk up (whether or not to make a prayer).
Because the view on top of the shrine is amazing!
Coming back down, we walk through the back streets, and spotted this Donguri Kyouwakoku. Ghibli fans will love this.
You won't miss the big Totoro standing outside!
Was so so happy i discovered it!
Every single thing is Ghibli themed, of course.
Neko bus and Jiji!!!
And lots and lots and lots of Totoro merchandise!!!
And a figurine hamper ahhhhhhhhhhhhh!
AHHHHHHH demon fire Calcifer (from Howl's Moving Castle) HAHHAHA I WANT!!!
Don't mind me, i just cannot resist anything Ghibli!
T_________T #TakeAllMyMoney
I bought a few souvenirs for friends, and also these totoro chopstick rests for my house.
You can also find other cute little shops like Fujiya's sweetshop.
At about evening time we headed towards Fujisawa by train.
Coastline view from the train. The little island you see across the sea is Enoshima, a small season town great for surfing.
We stayed the night at Fijisawa, a stop-over for our journey to Hakone the next day.
The boutique hotel i checked in was called 8 Hotel.
It's a hipster-ish, California style hotel and cafe. Quite a lot of non-hotel-guest came to the Italian restaurant and cafe for dining so i assume it's a pretty popular spot among the locals too.
The room was very basic and equipped with everything i needed, and very spacious too!
Love all the creative details!
The bathroom.
Dinner time, we went down to the Italian restaurant at second floor.
Starter
Shirasu pasta
Baniku steak.
Very very good dinner! However it was a little too early to call a night (9pm), so we went out to a local sake bar and had second round.
Japanese oysters are just soooo creamy!
And yes time to indulge in a glass or two again! #PumpAndDump
View from the hotel at sunrise.
Breakfast at the cozy cafe.
The burger set
Believe it or not this set is called EGGSLUT lolol. I was too embarrassed to take a picture of the menu, but it was really good. I gobbled up the whore plate. lololol.
That's all for now!
Next up would be Hakone!