So today I'm introducing yet another attraction in Tokyo that not many people know about. I myself have seen and heard about this place (especially on TV) at least hundreds of times BUT even I did not know that it's such an all-in-one entertainment spot!
Where else in Tokyo can you get a massive concert hall, a huge amusement park, lots of shopping, restaurants, museums, sports center, indoor kids playground, luxurious hotel, AND a natural hot spring ALL IN ONE SPOT? Maybe a resort at some remote island but I'm talking about Tokyo. Like, in the heart of Tokyo city.
Impossibru.
But yes, and welcome to Tokyo Dome City.

I have actually been there twice but both time was to ASOBONO!, it's huge indoor playground, a heaven for kids! I was there with Junya and Sakura! You can read my blog posts:
So let's see what this amazing entertainment city is about. Let me tell you that I spent 2 whole day and night in Tokyo Dome City, and yet there are STILL things I have yet to explore. That's how full of fun it is!!
ACCESS
First of all it's assessable by 3 different train stations, including JR's Suidobashi Station and Korakuen Station on Marunouchi Line on Metro.
STAY
Tokyo Dome Hotel
I stayed a total of 3 nights here, and it is absolutely luxurious.
Stunning view of either the Tokyo tower or Sky Tree, depends on which side your room is at.
Very very spacious for Tokyo standard. There's also limousine bus you can take directly from and to Narita and Haneda airport, so it's a super convenient place to stay for tourists.
AMUSEMENT
I think the below photo says a lot (but not all) – roller coaster, ferris wheel, merry-go-round.
The amusement park is made for visitors of all ages, especially family! Entry is free so you can come and go as you please, and just pay for the rides that you are interested in. Of course there's also a 1 Day Pass for unlimited rides, if you are that kind of people! haha.
The roller coaster, Thunder Dolphin, is waaaay off my limit as it is the hightes in Tokyo and 3rd fastest in Japan (by the way the maximum I can tahan was Splash Mountain in Disneyland, so… lol), so I went on Sky Flower, this parachute ride that brings you up to 60, in the sky to have a stunning view of Tokyo Dome City!
It's one of the oldest attractions built in Tokyo Dome City, over 40 years ago but it feels so new!!! If you go up all the way to the top you can catch a view of Tokyo Tower AND Sky Tree and if you are lucky, even Mt Fuji!
Even though Tokyo Dome City Attractions underwent lots of renovations, apparently it's one of the most popular so they kept it until today. 🙂
This is the Big-O. 15 minutes for one around and did you know?? You can sing karaoke in it!!! 😀
It is the first in the world with permanent karaoke feature, and the song lists include some popular Chinese and English songs too.
Onryou Zashiki Haunted House
Oh my oh my.
A new attraction opened just April this year, produced by renowned horror producer Mr. Gomi Hirofumi.
Confession – I have zero tolerance for height and speed, but I do have a thing for spookiness muahahaha. None of the scariest horror films manage to scare a single hair out of me so I was pretty confident that I'll survive this haunted mansion.
Just to give you a little bit of an idea of the concept of this haunted mansion, the setting is a traditional Japanese home, and the theme of it – Onryo Zashiki , "Onryo"怨霊 means "revengeful spirit", and "Zashiki" refers to the spirit that resides in the home, basically just 冤魂不散 walao just hear also goosebumps lol.
This is the only photo I'm allowed to post! Her name is Yoko, she was murdered by her fiance who cheated on her (what asshole, he totally deserves to be haunted forever!!!) and buried underneath the house.
The special things about this haunted mansion is that, you will have to remove your shoes before stepping in (Japanese custom ok haha), and it's also interactive as you will have to perform certain "tasks" and complete a mission.
The girls who went in with me screamed like they saw ghost (they did. HAHAHHA) but I didn't break a sweat, so… I'll leave it up to your imagination for this one. Haha.
TeNQ
Let's go to space!! TeNQ is located at the Yellow Building, which also houses other indoor sports facilities such as roller skate, rock climbing, bowling and more!
Here are TeNQ you get to experience the universe from many different perspective. Walk on moon, perhaps?
They also have many different exhibition from time to time, this time around it was collaboration with Shinohara Tomoe, Japanese pop singer and actress known for her fiery love for the outer space and astrology.
Fashion pieces that she designed for the exhibition, they are all so so so cute!!!
Apparently, last year they had a Sailor Moon exhibition and it was a big hit!! I told them that they must do it again! Sailor Moon fans, anyone?
Baubles made of planets, this Xmas tree will be there until 25 Dec.
Kissed by Alien?
Near the exit there are many super fun photo ops. I love them all!!!
Found a new friend.
HAHA punny too!!!
SHOPPING
LaQua
LaQua is a shopping mall in Tokyo Dome City, it's mostly fashion and accessories, there are also the standard such as drug stores, Uniqlo and Muji.
A cute fashion store, their pajamas are super cute!!
Collabo with Apollo (the chocolate!), super cute dao…
Lifestyle goods + fashion.
By the way, other than having the perks to shop tax-free, you can also browse for coupons to add more value to your shopping!
Just go to Tokyo Dome City's website and search for the below:
*click shopping*
*click the deals to get the coupon*
And then all you need is to just show the coupon to the shop staff!!!
Like this!!
I was at "Shop In", a cosmetic store to redeem a novelty item.
Free note pad!!
Do check out their many other coupons for discounts!
Also, they are having New Year Sale from 1st Jan – 14th Jan! So if you happen to visit during that period of time, be prepared to shop till you drop!
DINING
You can of course find many nice restaurants all over Tokyo Dome City, but here are a few highlights on my trip:
Artist Cafe
Located at the highest floor of Tokyo Dome Hotel, you get to enjoy really swanky hi-tea and Italian food, together with a very stunning view.
Sweets to fill your afternoon time before you move on to the next activity.
Recommended to spend a special night with your loved ones!!
Yugyoan Tankuma Kitamise (Japanese Restaurant)
Located at 4F of Tokyo Dome Hotel.
I was there twice for my hotel breakfast.
Love Japanese-style breakfast!
Rilassa (Buffet)
Located at 3F of Tokyo Dome Hotel. Omg their buffet… please go hungry. Please go very, very hungry.
So happened they were having a Hokkaido Fair! Using lots of Hokkaido fresh produce and seafood, lucky me!!! 😀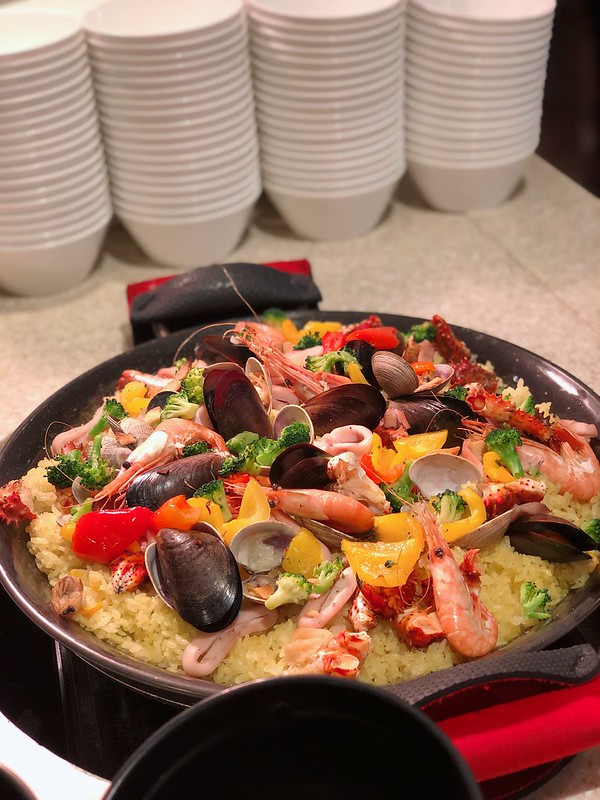 How can buffet be so beautiful!
Steamed Sea Urchin Rice wow luxurious!
I love their Sichuan selection. Chili prawn, Mabo Tofu…
And free-flow crab omg… T__T
Ahhhh dessert souds good too!
Make sure you go very hungry.
NIGHT ILLUMINATION
One of my favorite things in Tokyo Dome City?
The dazzles and twinkles. For this Christmas season, they have put up amazing night illumination, which makes it extra romantic!!
Winter Lights Garden, it's happening from now until 17 Feb, 2019.
This is the "Hanabi" area, you can launch your very own "fireworks" with just a push of a button!!
Very instagenic too.
This year, the night illumination theme is "Japanese Style". So you can see a lot of traditional Japanese element in it, such as the Japanese umbrellas, paper crane, Edo kiriko glassware, etc… sparkling in a kaleidoscope of pretty beams. And many of these illuminations are also interactive, so I saw all the kids are having so much fun chasing paper crane made of lights on the ground!
Omg I just feel that Japanese people really super effort. T_T
Oh look! Even Starbucks is now a glowing Strawberry Shortcake. It will stay a cake until 4th December haha.
ONSEN + SPA
I think I have given you enough reason to give Tokyo Dome City a visit, and if all of the above is still not enough, here's one more: Natural Hot Spring.
Never thought that you could soak in onsen among all the skyscrapers in the middle of Tokyo City did you?
Well, Spa LaQua, located at 6F of the mall, only assessable with an exclusive elevator, is, your oasis of Tokyo.
And it's more than just an onsen! It's a retreat for busy Tokyoite to unwind from the hustle and bustle. The average time spent here is apparently 4 hours – you just don't wanna get out of it ever!
Doesn't look very onsen, right?
It has a very resort feel to it (since the Japanese all love tropical beach holidays! Haha), here you get to soak in natural hot spring, both indoor and outdoor (and the outdoor onsen is located near to the roller coaster, although you can't see anything and nobody from outside will see you but you will actually hear people screaming lol. It's very surreal! XD). There are also spa and body treatments,  massages, and various saunas made of different materials such as germanium and rock salt.
Plenty of spacious rest-area for you to chit-chat with your friends and even watch TV, just completely relax yourself here!
Here are some of their official photos from Spa LaQua to give you a feel of its unsurpassed indulgence for a relaxing time in the busy metropolis (since there are many areas where no photography is allowed to protect customer's privacy, if you do wanna take any photos, please do check with the staff 🙂 ):
Upon entering a luxurious space.
Day time view – just like a resort paradise!
Enjoy a an organic drink here for beauty in and out.
Here's the open-aired onsen. The one on the left in Japanese cypress wooden bathtub is actually a milky carbonated spring that boosts metabolism.
Low Temperature Sauna with geranium for detox effects. Get a good sweat while feeling comfortable!
One of the body treatments that I tried – Moroccan Treatment, to get rid of dead skin cells revealing smooth and moisturized skin. There are other types of scrubs, aesthetic treatments and massages too.
Furusato Matsuri Tokyo
Lastly, there's a special event happening from 11-20th January, 2019 so if you are visiting Tokyo, don't miss out!
Furusato means "hometown" and matsuri is "festival", this will be your best chance to get to know more and get a taste of your 47 prefctures in Japan!! 2019 marks the 11th year of this special event and every year more than 400,000 people will visit this event so it's one of the biggest happenings in town!
Food
Needless to say more, local Japanese food from all over the country! Of course, everybody's favorite Hokkaido will be one of the main highlights 🙂
Matsuri
Omg my next life mission is to join allllll the different seasonal festivals from different prefecture! I have been to Nebuta Matsuri before in Aomori and it's really soooo amazingggg. Here you get to enjoy many many different matsuri ALL RIGHT HERE IN TOKYO!!! Dammit I'm buying air ticket now.
Gotochi Characters
You may also get to meet your favorite Gotochi Yurukyara (local mascots) from different prefectures! How many can you recognize?
Venue: Tokyo Dome
Date: 11-20th January, 2019
Price: 1700 yen (1400 yen for weekdays except 14th Jan, 1300 yen for evening entry from 4pm onwards)
Must must must go if you are in Japan! Actually it's worth flying there just for this! Haha.
That's all for this time, but that's not all about Tokyo Dome City, please do visit it yourself to experience a buzzing entertainment city of its own!
Go to Tokyo Dome City's website to find out more. ^^